A Banner and a Sign
"Thanks for calling Warehouse 1, located in Kansas City, home of the World Series Champion Royals, how might we help you?"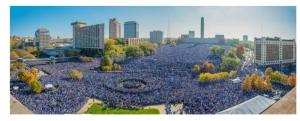 A buzz is in the air in our fly-over city is all around, as this week has been crazy! Take a look at this picture:
800,000 people flocked to Union Station on Tuesday to watch as Ned Yost, Mike Moustakas, Wade Davis and the rest of the 2015 Kansas City Royals arrived back from New York after defeating the hometown Mets in Game 5 of the World Series to win the city's first major title in 30 years. WHAT A FEELING!
The city deemed Tuesday "Blue Snow Day," as schools and the government closed down to descend upon downtown for a parade and rally. 800,000 looks a lot more impressive than it sounds! The crowds were very full and also relatively docile, leading to fun-filled event for the whole family to enjoy. About 80% of our staff went enjoyed the festivities that day, leaving a relatively sparse staff at the office. We can't blame 'em though. It was a magical time to be from Kansas City!
The team did a great job of making us feel a part of it, thanking the Kansas City fans during the rally. We are very proud of our Royals and proud of what they have done for our city. In fact, the last two seasons helped influence a purchase we made last October.
We had a dated sign that hung on the exterior of our building that sits off of I-435: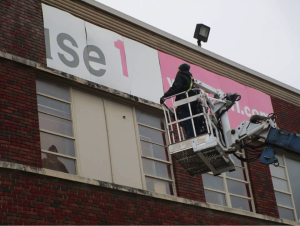 Around late October last year, we realized it was time for a face-lift, we considered a few options. We thought to maybe repaint it or maybe get another similar sign. We spoke to a real estate company in town who told us that roughly 100,000 cars passed by our building on I-435 each day. With the considerable attention on KC for last years World Series and the mass amount of people in town, we thought it might be wise to put something up that would stand out a bit more. People could barely see the old sign from the parking lot, so we decided to spend a little extra on something that stood out dramatically — something visible from the highway.
We decided on a sign with our name on it in five-foot LED letters so everyone could see it. One way to justify the cost of the new sign we purchased was to imagine how much more traffic would be generated if the Royals made the World Series again. Lo and behold, the exposure has paid off significantly.
And just like we did last year with our sign, the Royals are hanging up a banner when the season opens up next year. We couldn't be more proud.
Thanks for reading!