BBQ Capital of America
Leaves are starting to turn and everything is pumpkin spice flavored, so it must be fall. Another sign of autumn comes from the American Royal gearing up to take center stage. From the rodeo to the equestrian events, the Royal is the place to be for both locals and visitors from all over. One event that gains the most buzz is the annual World Series of Barbecue. Thought of as the biggest barbecue competition in the world, teams from across the globe come to showcase their meat smoking and grilling skills, and put their best dishes on display. This event draws more than 50,000 attendees and gets bigger every year, making it a fall tradition everyone needs to do at least once.
But before you dive into the world of smoked meats, flavorful sides, and savory sauces, you should know about the rich history of barbecue in Kansas City, and why it is considered to be the "BBQ Capital of America."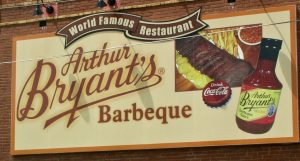 It starts when a man named Henry Perry, who is considered the "Father of Kansas City Barbecue", moved from near Memphis, Tennessee to Kansas City, Missouri in 1907. In 1908 he began serving smoked ribs to workers in the downtown area from an alley stand. In the 1930s, he moved his business to a trolley barn in the 18th and Vine district, an area that became widely known for its Jazz scene. When Perry passed away in 1940, an employee of his by the name of Charlie Bryant took over the restaurant and brought his brother, Arthur, into the business. Charlie retired in 1946, leaving Arthur to run the restaurant and it was renamed and became the now nationally famous "Arthur Bryant's." Arthur passed in 1982 and the shop is still standing to this day, attracting patrons from coast to coast. In 1946, Arthur Pinkard,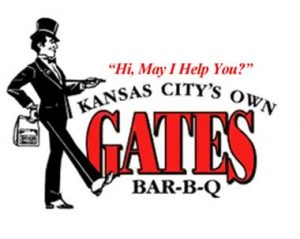 who was a cook for Henry Perry, teamed up with George Gates to found Gates and Sons Bar-B-Q. The restaurant operated initially in the same 18th and Vine district. Gates Bar-B-Q's unique red roof design on every store, and it's "man in a tuxedo and top hat" mascot helped develop the business into one the most known local barbecue chains in the city. You don't think about Kansas City without thinking about Gates Bar-B-Q.
These foundin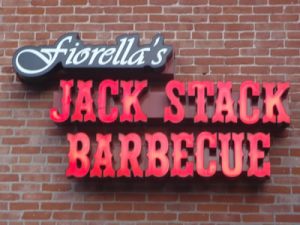 g fathers of Kansas City-style barbecue paved the way for some of the area's nationally recognized restaurants. Opened in 1974, Fiorella's Jack Stack Barbecue is a family-owned chain of smokestack restaurants. Headed by Jack Fiorella, son of butcher Russ Fiorella, Jack Stack Barbecue has 5 locations throughout the metro area and has been featured on The Food Network and The History Channel. Most of their success thrives on providing a higher level of comfort and service than most are used to at a barbecue restaurant, and offering non-traditional items such as Crown Prime beef short ribs, hickory grilled steaks, and a large wine and bar selection. In 2000, Jack Stack began shipping their barbecue nationwide, introducing themselves to the rest of America and gaining media exposure.
Perhaps the mo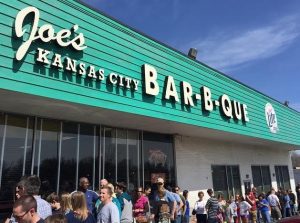 st interesting story is of Joe's Kansas City Bar-B-Que (formerly known as Oklahoma Joe's). This restaurant, located on 47th and Mission Road, can be traced back to competition barbecue. Jeff Stehney and his team were on the competition circuit, winning eight grand championships including the highly regarded American Royal's World Series of BBQ. While competing, Jeff met Joe Davidson, owner of the Oklahoma Joe's Smoker Company. They decided to go into business together and open Oklahoma Joe's Bar-B-Que in Stillwater, Oklahoma in 1996. Later that year, they opened the Kansas City Location. The next year, Joe sold his smoker company and moved to Texas. With no owners located in Oklahoma, the Stillwater location was closed and Jeff bought out Joe's share of the KC location. After 14 years, Joe Davidson moved back to Oklahoma and opened two restaurants under the same name. With fear of brand dilution, Jeff agreed to change the name of his restaurant to Joe's Kansas City Bar-B-Q. The famous gas station/restaurant had received high accolades from reputable magazines and food critics, not to mention the restaurant filled a $1,400 order for President Barack Obama and his Air Force One staff in 2014.
Throughout the years, barbecue has taken off and become a major staple in Kansas City. It attracts revenue and tourists from all over the world. From smaller restaurants such as Danny Edwards and Woodyard BBQ, to the local chains like Jack Stack and Gates, there's no doubt that Kansas City is the Center of the barbecue world. Founded in 1986, the Kansas City Barbecue Society is the largest organization of meat smoking enthusiasts. With over 13,000 member across the world, the KCBS sanctions almost 300 barbecue contests each year in the U.S., including the American Royal World Series of Barbecue. Click here if you would like to attend the American Royal World Series of Barbecue, register to compete, or judge. The competition is held on October 26th-30th, 2016 at Kansas Speedway.
Warehouse1 is a proud supporter of all things Kansas City. Follow us on Facebook and Twitter to receive updates on city events and what we're involved in!