Be Safe This Winter in Your Warehouse
In an industry full of hard working, blue-collar individuals who bust their butts to get the job done, it's important to be aware of many of the hazards that can potentially injure you during these cold weather months.
Many ailments that arise at warehouses and facilities are preventable, and when the seasons change workers are at risk to a new set of injuries and illnesses from inclement weather. Wintertime is especially challenging, as conditions tend to be the harshest.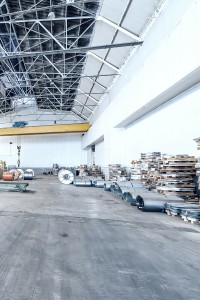 At Warehouse1, we are committed to promoting a healthy workplace, so be mindful of these cold-weather triggers you might encounter on a day-to-day basis.
Icy Surfaces — Slipping and falling becomes a much more debilitating injury as people age. Our bones deplete and become frailer, and that means taking extra precaution when walking on slippery surfaces. Ice on staircases, ladders and black ice in parking lots pose huge dangers, so tread lightly and walk slowly.
Cold/Flu — If you've been exposed to long hours in chilly weather, getting a cold or flu can happen. If you are sick on the job, having these symptoms can infect multiple people and cause mass absences. When the symptoms hit, make sure to get plenty of rest, take proper medication, and drink water. Failure to do so will only worsen your condition.
Hypothermia — When working outside or in cold weather, the internal heat your body musters can make you feel warmer than you actually are. And when dealing with long exposure under the elements can hit you without your realizing it. Hypothermia occurs when your body temp dips under 95 degrees. Wear extra layers, especially on your hands and feet, as these areas of tend to exude the most heat due to lack of layers.
Cardiac Arrest — Doing physical labor in the cold tends to make your heart work extra hard. So take it easy when the conditions worsen and listen to your body, and don't push yourself too hard.
At Warehouse1, we offer great nationwide rates to all corners of the United States. Our team of industry experts are ready to answer any questions you may have when it comes to your warehouse and keeping workers safe, so call for a quote today!