Catching World Series Fever at Warehouse1
As we touched on a couple weeks ago, our hometown of Kansas City has reached a fever pitch in supporting the Royals. After surviving post season series against both the Astros and Blue Jays, we're currently on the cusp of our city's biggest sports title since 1985. KC is electrifying right now, and the team has given us a great sense of civic pride.
Thinking about the 30 years since our title in 1985, one of our longest tenured employees, Don Hilker, took the time to recall how things have changed for not only our major league baseball team but also with Warehouse1.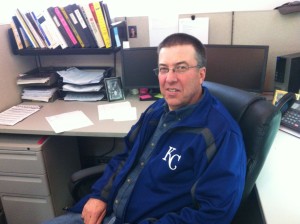 Don is a lifelong Royals fan born and raised in the Kansas City area. He was six years old when the team was founded in 1969, and still remembers his first ever baseball game that season against the Orioles. To this day Don attends many regular season games, and has been at Kauffman Stadium for each postseason game this season. Like the rest of the city, winning a title would mean a great deal to Don.
"This town is hungry for title," Don said. "It would bring some legitimate recognition across the country to the City. The Royals haven't been taken seriously for quite some time. Part of that stems from them being bad for 30 years. Over the last two plus years, the Royals have been playing with even more heart and enthusiasm than some of the winning teams of the '70's and '80's."
Don has worked in the Sales Department at Warehouse1 for 24 years, selling Pallet Racks, Shelving, Conveyor Systems and all other products we offer.
Just like the Royals have changed drastically, Don says Warehouse1 has, too. When he started, there were about 20 employees. Now that number has more than doubled. We've also grown our business exponentially. We're now able to take on a wide variety of projects while also becoming more efficient, establishing ourselves as national leaders in the Material Handling Industry.
But despite the growth, Warehouse1 has stuck to its roots and with its customer service and sales approach.
"Warehouse1 has always been a great place to work," Don said. "We have a relaxed atmosphere and an excellent staff. We're very friendly and never try to pressure our customers. We want to help our customers recognize their needs and find the best possible solution. We'll never try to force a product or service if a customer doesn't need it."
We love our customers and employees as much as we love our Royals!
Give us a call today for a quote!