Mezzanine or Not Mezzanine?
The word "mezzanine" is trending in the material handling industry. Specifically, people tend to use it to refer to any type of elevated structure. In some cases, this can be a big mistake. What you call your platform could end up saving you money and a headache.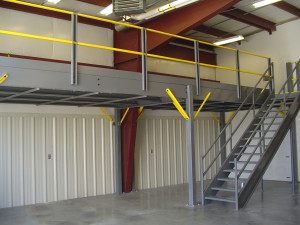 By definition, a mezzanine is a permanent intermediate level of a building between two stories, similar to a balcony, that is open to the floor below. They are typically used for storage, office space, or product display. There are elevated structures, other than mezzanines, that are meant for production equipment such as conveying systems and air handling equipment. They have walkways for maintenance but are not for full-time use.
The industry has somehow shifted into calling any elevated platform a mezzanine, even if it is only used as an elevated work platform. When it comes to abiding by building code standards, it all boils down to how authorities view your platform and what your intent is. This is because many new buildings are built with mezzanine levels that are part of the building structure. When an installed platform is mistaken to be a standard mezzanine, it is considered to be part of your building instead of a piece of capital equipment, and it may bring negative implications for your building. 
When You Should Not Used the Word "Mezzanine"
When you want to be clear about your intended use of the structure. If your structure is where production occurs and machinery is held, describing it as such during installation drawings or building permit applications can give a clear understanding as to what your platform's function is.
When building approval is strenuous. Mezzanines have specific regulations such as minimum height clearances, guardrail and stair size requirements, etc. Work platforms have exemption to most of these. If your structure does not fit the technical definition of a mezzanine, do not hold up your approval process by calling it one.
If tax rates are important. Some areas consider mezzanines as part of the square footage of a facility. This can have a big impact impact on yearly property taxes.
If federal depreciation is important. Your capital equipment will depreciate over 7 years instead of the non-residential real estate depreciation of 39 years, allowing greater tax savings.
On your next mezzanine project, consider giving it a name such as work platform, elevated platform, equipment platform, production platform, etc. These titles can describe your project more accurately, as "mezzanine" can be overly inclusive. When working on your next elevated structure project, be sure to abide by your local building codes and tax requirements. Simply calling your project something else will not make you exempt to these rules, but stating clearly your structure type and function may save you money and difficulty.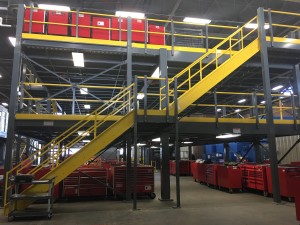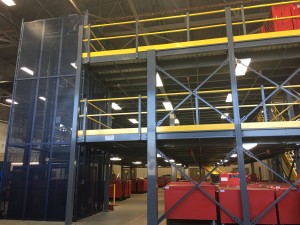 Warehouse1 provides products and installation services to fit your warehouse needs! We specialize in increasing storage space in your warehouse and have executed many mezzanine projects in the U.S. Contact us today for more info and to quote your next project!