Warehouse1 Helps Harvesters
This month, some of our Warehouse1 crew volunteered for a service night at Harvesters Community Food Network, one of our customers located here in Kansas City, MO. Harvesters is a regional non-profit food distributor that serves a 26-county area of northwestern Missouri and northeastern Kansas. Harvesters provides food common household products to 620+ non-profit agencies such as emergency food pantries, community kitchens, homeless shelters, children's homes and more.
The night sta
rted with an informational video about Harvester's mission and how they fulfill it. Next we made our way into the warehouse where the food and items are packaged and prepped for distribution. We were selected from many to complete the daunting task of bagging carrots. The carrots were donated from Wal-Mart and other markets that were not fit for sale. Our job was to separate the good carrots from the inedible ones, and pace them individual sacks that will be sent out to the agencies. We teamed up with a few other companies from the Blue Valley Industrial Association, an organization that Warehouse1 and Harvesters are apart of.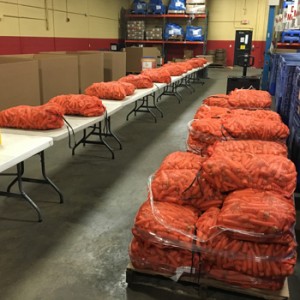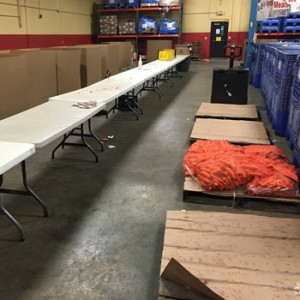 The process started off slow, as we were trying different strategies to be more efficient carrot baggers. By the end of the night, we were flying through the pallets of carrots, developing quick hands and a keen eye for a bad vegetable. There was only on pallet remaining! The Warehouse1 team left knowing we helped a great organization feed the hungry and less fortunate.
Harvesters Community Food Network accepts volunteers daily. If you or your organization would like to sign up to help, visit Harvesters website here.