5 Things to Know Before Buying a Used Pallet Rack
Buying new pallet racking is expensive, so buying used equipment from Warehouse1 can be a great alternative. How do you know whether you're really getting your money's worth for that used pallet? Ask the following five questions before putting your faith into the purchase.
Does the pallet rack meet all current ratings and specifications?
To find this information, start with the rack manufacturer. Their engineering department can inform you of current acceptable rankings. Because these are subject to change, it is best to be sure before making your final purchase.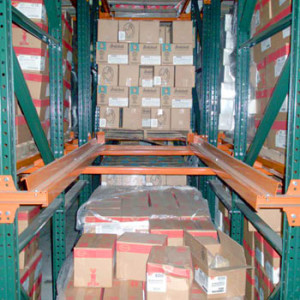 Has the pallet rack been previously damaged, or are there other integrity concerns?
Inspect the rack, but look past the dust. You are buying used equipment, so there will be a bit of wear. That said, make sure to examine and verify that the rack is structurally sound and able to withstand further use with little issue. Ask the vendor if the rack has sustained damage in the past, what the repairs were, and whether the integrity of the equipment has been compromised.
What are the capacities of the pallet rack according to the manufacturer?
When buying racking, start with the basics. Find the measurements of the pallets you plan to store, calculate the approximate number and weight that will be on the rack, then feel free to consult with Warehouse1 on if the product will suit your needs. Be safe in the beginning to avoid the risk of losing valuable equipment or funds.
Is there a contact for you to call if something is wrong with the equipment?
One way to feel confident in your purchase is knowing that Warehouse1 is there for support should something go wrong with the rack. While there is no reason to fear the worst, it is best to prepare for possible eventualities, and knowing you have a reliable and knowledgeable vendor within reach if something goes wrong is helpful to ensure you are making a sound purchase.
Are you working with a reputable vendor?
The internet makes it easier than ever to verify who you're working with. Check your seller's reviews, peruse their website, and ask others in the industry if they have worked with them and what their impression of the vendor was. Nothing is better when buying used products than having a source with integrity, so do a little bit of homework and make sure the company you select is worthy of your business.
For additional tips and advice, contact Warehouse1. We have a team of experts ready to answer questions and get you the resources you need. At Warehouse1, we also have an "Equipment Buy Back Guarantee" that involves buying back your used material handling equipment purchased from us.