Warehouse Lighting Surveys & Solutions
Your warehouse operations can run non stop depending on whether you are servicing B2B clients or the general public. Products are being delivered, inventoried, and stocked waiting to fulfill orders. Your workers require well-lit operations to retrieve the right products and to ship them out efficiently. Here at Warehouse1, we offer commercial lighting retrofits for your operations as well as new lighting systems.
Our specialists will conduct a survey of your entire building and then suggest the appropriate lighting fixtures and bulbs based on the size and configuration of the space. We offer both retrofit designs for current warehouse setups for improved energy efficiency, as well as lighting systems for new warehouse builds.
Contact our lighting specialists to discuss your survey needs today.
Inefficient Existing Lighting Systems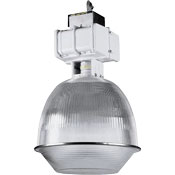 Commercial lighting systems are usually areas of a warehouse that seldom get upgraded throughout the years even when the rest of the warehouse goes through renovations. Most buildings still have the original metal halide fixtures in place. Metal halides were used in the past because they can give off a very bright radiance during the beginning of their lifespans at a range of 20,000 to 35,000 lumens as 400-watt and 500-watt bulbs were used.
However, these old fixtures are inefficient when compared to newer systems that are now available. When a metal halide light reaches a 20,000-hour life, they emit less than 50% of their lumens. This problem creates dim areas in your warehouse based on the height of the lighting system. In addition, the color rendering index (CRI) of these options only comes in at 65 CRI when trying to simulate natural daylight at 100 CRI. This means you may have areas that take on a certain color tint such as a greenish hue.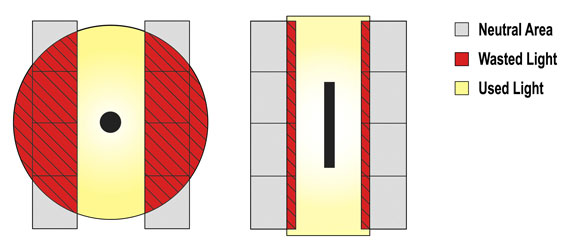 LED Warehouse Lighting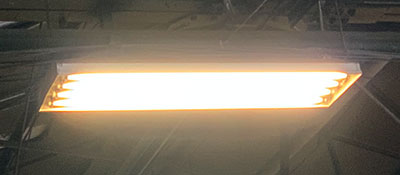 Today, LED lighting technology is the preferred choice for warehouses across the country. An LED can produce the same amount of lumens as a metal halide. Yet, LED warehouse light fixtures will use up less electricity at a typical 200 wattage. In addition, many utility companies offer rebates for switching over to industrial LED light fixtures, providing more cost and energy savings to a company.
Warehouse1 can help you take advantage of better energy savings, longer lasting lighting fixtures, and better color rendering for improved indoor visibility.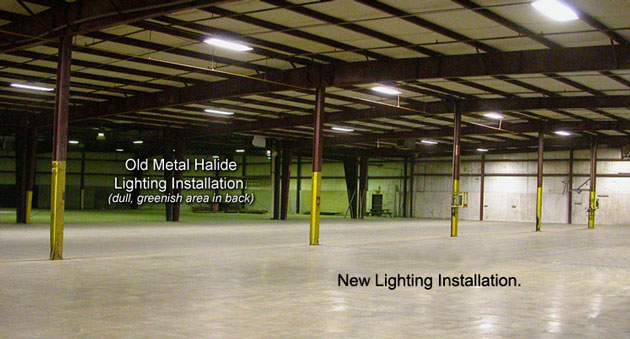 The Survey Process
Warehouse1 offers warehouse lighting design and lighting retrofit services for buildings of all sizes. We evaluate the types of systems that are currently present, what type of lighting is needed in various operational areas, and what steps are needed to retrofit or install new lighting systems. By having our professionals review your operations, we can provide the most cost-effective warehouse lighting solution that meets your specific business needs.
Our multi-step process ensures you are getting the right system for your facility.
Design Survey: Our expert team analyzes current warehouse designs and how your present lighting impacts those areas. We are experienced in finding the right solutions for different types of facilities, including large spaces with high ceilings.
Communicate Needed Improvements: With input from the customer, we suggest improvements to your setup and walk through the different options available. We also discuss whether LED high bay lights or low bay options should be installed, and if other features, such as dimming or motion sensor capabilities, should be considered.
Design & Retrofit: After gaining feedback, we will create the new design or retrofit solution based on the agreed upon requirements. In addition, we can make improvements to how the fixtures are spaced and configured in the facility.

Better Lighting from Warehouse1
With enhanced, high quality LED lighting solutions offered by Warehouse1, you can provide a safer work environment for your employees. You can reduce accidents by increasing the amount of light in darker areas of the warehouse floor. This benefit can increase worker productivity while decreasing energy consumption costs.
For more information regarding our Lighting Survey and design process, contact Warehouse1 today.