Pallet Racking Systems
A fundamental aspect of modern storage and distribution, pallet racking systems provide almost instant access to essential products and materials. Despite their critical nature, however, many companies lack customized pallet racks that account for factors such as warehouse size or types of products handled. With the right pallet rack system, it's possible to optimize limited space, improve efficiency, and boost your warehousing return on investment.
WH1 offers the expertise needed to help plan and implement such a system; reach out to speak to one of our consultants today.
You can also shop individual pallet racks.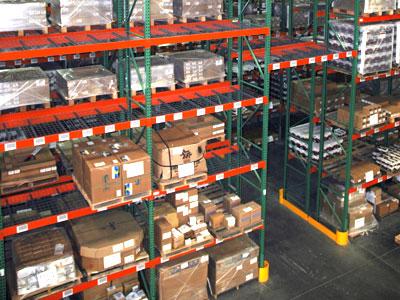 How Do Pallet Racking Systems Work?
These systems can look significantly different based on warehouse layout and product or material handling category — but most solutions hold a few key elements in common. These include flat transport structures known as pallets, which can be stored horizontally in rows or in multiple levels to take advantage of vertical space.
Depending on their intended function, warehouse racking systems may include features such as rollers, shuttles, or cantilevers to influence speed or ease of access. Common types of pallet racking systems include the following:
Drive-In Pallet Racking Systems
This high-density option aims to make the most of limited warehouse space. As its name implies, the system allows forklift operators to drive into the rack, which essentially serves as a lane. Drive-in rack solutions are best for last in, first out (LIFO) operations, as pallets stored near the rear of the structure can be difficult to access. Drive-through rack allows for FIFO systems.

Shop individual drive-in pallet racks.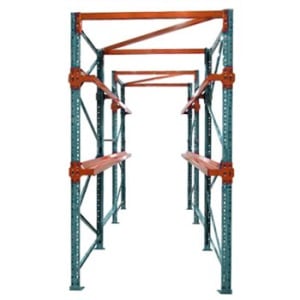 Push Back Pallet Racking
Ideal for last in, first out (LIFO) arrangements, push back pallet racking uses rollers and a slight incline to get gravity involved in the process. Under this approach, the area near the front of the structure is used for loading. The push back system's name derives from the pushing forward of pallets that are initially placed near the back.
Shop individual push back pallet racks.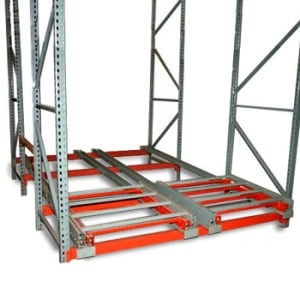 Pallet Flow Rack
Using a combination of gravity and rollers to push pallets, these systems are built at an angle and loaded from the rear. This unique approach allows pallets to slide forward, eventually reaching the front of the shelf. Pallet flow systems are best suited to first in, first out (FIFO) operations, in which they promote exceptional efficiency.

Shop individual pallet flow racks.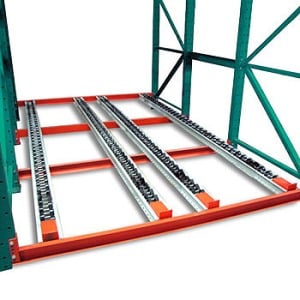 Selective Pallet Racking
Among the most commonly used solutions for pallet storage, selective racks make it possible to access specific pallet loads without needing to move other pallets. The selective pallet rack approach can be problematic when high-density storage capacity is required, but it's one of the best options for turning over SKUs with minimal shelf life.
Shop individual selective racks.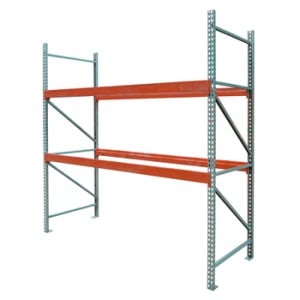 Roller Rack Systems
Using rollers and gravity to efficiently move products around the warehouse, roller rack systems are incredibly versatile. These dynamic systems offer easy adjustments, integration with other systems and durability. Roller rack systems are ideal for FIFO.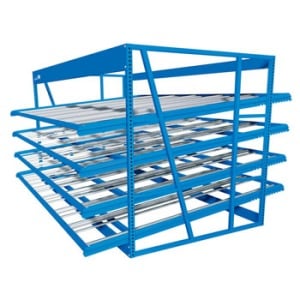 Double Deep Pallet Rack
Effectively double your storage capacity in the same space without the investment of a dynamic rack system. Double deep pallet racking is basically two selective rack sections placed back to back. This system requires a Double Deep Reach Truck forklift to place and remove pallets stored in the back section.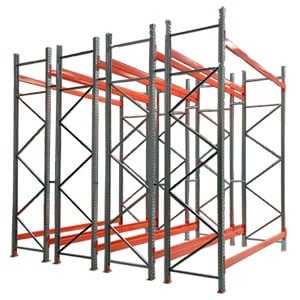 Cantilever Rack
When easy retrieval is a priority for bulky or oddly-shaped items, cantilever racks can be a viable option. These structures are anchored to the floor with sturdy bases, which also connect to upright frames or columns with connected cantilever arms. These are used for storing items, with decking available for select racks.

Shop individual cantilever racks.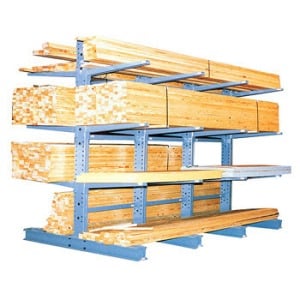 Benefits of Pallet Racking Systems
With the proper setup and structure, this type of storage system can carry a wide range of benefits. In general, these systems aim to make facilities more efficient and cost-effective. Key advantages include:
Maximize storage. Limited warehouse storage space is a common concern, where every inch of space must be properly utilized without compromising ease of access. Several pallet racking designs promote high-density storage, but drive-in solutions are among the most effective in this regard.
Optimize inventory management. The right warehouse racking system will optimize facility organization to promote streamlined forklift operations and efficient workflows. This ensures that all products can be instantly located and accessed as they're needed.
Cross docking. The modern supply chain calls for agile operations that can respond quickly to unexpected changes in supply and demand. Therein lies the value of cross docking, in which products or materials are quickly unloaded before being promptly distributed to outbound carriers. Under this approach, facilities serve more as sorting centers than conventional storage solutions. Creative pallet racking systems support this approach by minimizing the need for items to be stored for any significant amount of time.
Versatility represents another key benefit of these systems, which can be used to great effect in the following industries:
Automotive
Electronics
Pharmaceuticals
Cosmetics
Food and beverage
eCommerce
Warehouse1 Can Help Find a Pallet Rack System to Meets Your Needs
Every warehouse and distribution center functions differently. As such, it's crucial that your pallet rack system is designed based on your specific goals and the unique circumstances at your facility.
Warehouse1 can help you develop a strategic solution that takes a variety of important considerations into account. Our experts will work closely with you to determine what, exactly, you need and how our pallet rack systems and other solutions can deliver.
Ready to take the next step towards achieving a more efficient and cost-effective warehouse strategy? Contact us today to learn more about our warehouse solutions. We'd be happy to get you started with a quote.