Industrial Conveyor Systems
Efficient material transport is a major concern in a variety of fast-paced sectors. There is no room for errors these days, especially as consumers and clients grow more demanding. In competitive industries, conveyor systems provide a competitive edge by streamlining operations and improving efficiency. This, in turn, leads to significant cost savings, and, over time, increased profits.
Conveyor system efficiency depends, in part, on the specific types of solutions implemented within a given facility. These systems can vary dramatically based on the needs of the company in question and the realities of the location. In this guide, we explain why customized conveyor systems are so important — and how the experts at Warehouse1 can help you determine the right design and setup to meet your specific business needs.
Contact us today to consult with our team.
Types of Conveyor Systems
When you picture a "typical" conveyor system, what do you imagine? In reality, there is no such thing as normal — especially in today's competitive market. While a few basic models used to reign supreme, many businesses now prefer highly customized solutions designed to work within specific facilities or to handle complex procedures.
With all that being said, many conveyor systems still fall within one of several main categories. The general concept behind their design may look similar, with customizations then provided to meet specific needs. Below, we've highlighted a few of the most common types of conveyor systems, along with their advantages, downsides, and typical applications.
Motor Driven Roller Conveyors (MDR Conveyors)
Sometimes referred to as 24V DC conveyor, motor-driven roller conveyors (MDR) are an offshoot of the power roller conveyor that limits the need for traditional power components, which tend to take up more space. Energy efficiency, reduced noise, and ease of repair make MDR conveyors an appealing option for installing in many operations today.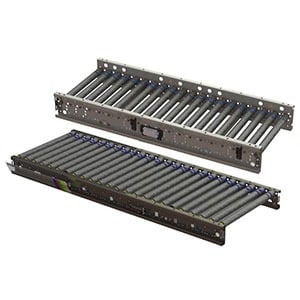 Accumulation Conveyors
When many people think of conveyor systems, they assume that all aspects of such machinery are constantly in motion. In theory, such an approach would deliver the greatest efficiency. In reality, however, the occasional pause can make a world of difference.
Accumulation conveyors enable this pause, allowing items to accumulate as needed to ensure that equipment and materials can become available. Under this approach, various processes can be sped up or slowed down when required. This flexibility ultimately produces greater efficiency than would otherwise be possible — especially for operations with a high throughput.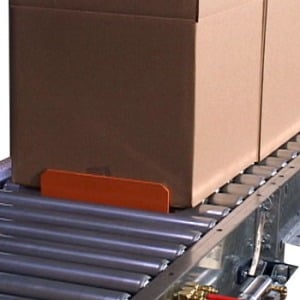 Sortation Conveyors
Designed to divert products to specific lines, sortation conveyors can easily send items to shipping lanes, packing stations, and other important areas. This streamlines the sortation process, thereby making entire facilities more efficient. The end result? Significant savings and a high return on investment.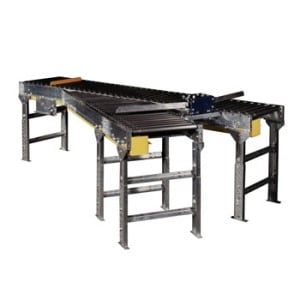 Pallet Conveyors
Pallet handling presents unique concerns, due to the weight of the loads. Durability is crucial for pallet conveyors, which should continue to move loads efficiently regardless of their weight.
Another priority? Limiting load handling. While this is a key component of conveyor design in several contexts, it's particularly important for heavy pallets, which must be moved as safely and as efficiently as possible.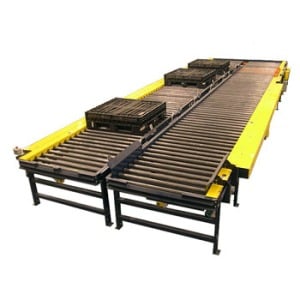 Live Roller Conveyors
While some conveyor systems rely primarily on gravity to keep loads moving, live roller solutions provide a boost with help from chains or O-rings, as well as an electric motor. This use of power roller conveyor reduces the effort required to move heavy-duty items from one location to the next.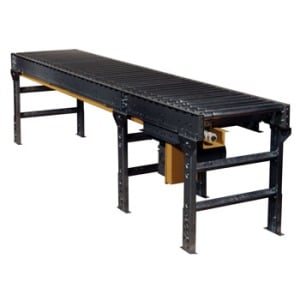 Low Profile Conveyors
Many modern facilities lack the space required for major conveyor operations. Thankfully, smaller alternatives are available. These low-profile options can be implemented in tight spaces without worrying about significant losses in efficiency or throughput. They're often called on to accommodate unusual dimensions.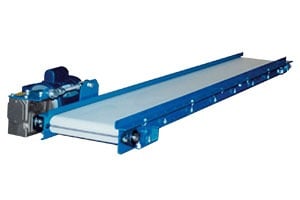 Custom & Specialized Conveyors
While the basic conveyor solutions identified above can be integrated within several types of facilities, they may require additional adjustments to make sure they live up to their full potential based on the unique needs of the business in question. A wide array of customizations can be made to ensure that each conveyor system is perfectly suited to the location and industry in which it's used. Custom equipment may integrate aspects of several standard conveyor designs into one specialized system.
Conveyor System Design
The conveyor systems described above can be beneficial in a wide variety of settings and for many types of industrial functions. How they're designed depends largely on the context in which they're utilized. The following are among the most common applications for modern conveyor systems:
Distribution centers. In the competitive eCommerce industry, efficient package handling is crucial. The right conveyor system can promote exceptional throughput in a fast-paced sector, thereby increasing the likelihood of keeping up with today's tight manufacturing deadlines.
Retail. As shoppers increasingly turn to online solutions, brick-and-mortar retail locations need efficient systems that provide a competitive advantage. While many have previously opted for smaller, more flexible solutions, the conveyor approach is becoming more popular among big box stores, major supermarkets, and other larger retailers. From dockless receiving to sortation, retail-oriented conveyor systems help with a variety of critical tasks — all while limiting labor costs.
Manufacturing. Many aspects of the modern manufacturing are fully automated. In this sector, durable conveyor systems may be called on to limit manual material handling. Customized conveyor systems help to maintain efficiency and promote strict quality control.
Automotive. As an increasing share of automotive manufacturing facilities go mostly or completely automated, advanced conveyor systems are needed to promote swift access to essential materials and parts. These are often customized to handle the dimensions of various automotive parts.
Warehouse1's Custom Conveyor Systems Solutions
At Warehouse1, we are proud to provide a wide range of conveyor solutions that meet the unique needs of clients in numerous industries. We understand that conveyor systems that work wonderfully in one context may be completely wrong in a different situation. Hence, the need for customized support from experts who understand the realities of automated material handling (AMH).
The right conveyor system could lead to major savings and increased long-term profitability. Why wait? Contact us today to learn more about the wide range of conveyor options we provide. We'd love to help you improve your material handling strategy.