How Do I Attach Span Track to My Pallet Rack?
Connect span track frames to your pallet rack with specialized accessories. Expand the length of your track with accessories that connect two span track frames end to end. Here is an introduction of the most popular span track connection accessories available.
Hangers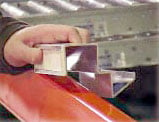 Span track hangers connect low profile span track with pallet rack beams. If you are purchasing used span track, you may choose to use hangers, and in some cases you must. When not needed, you can rest the span track lane on top of the pallet rack beam (high profile) or in the beam step (low profile). Hangers are made to accommodate various pallet rack beam sizes and styles: step beam, channel beam and box beam. To select the correct hanger you need to identify the pallet rack beams style you have and the size of the beam.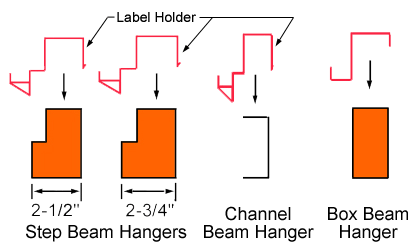 There are two advantages of using hangers. The first is flexibility of length. Due to the generous space allowed, using a hanger lets you move span track forward or back by well over an inch, or more if using two hangers. The second advantage is the hanger can provide a package stop if the hanger rod is in a high position. If the hanger rod is low, this raises the span track and it may not provide a stop. Moving the hanger rod up or down in the span track frame to accomplish high or low positioning is simple. However, moving either the hanger rod or spacer rods after modifying the length of the span track is much more difficult.
Retainer Angle
Retainer angles, also called retainer strips, keep high profile span track from migrating or sliding. This strip of galvanized steel attaches across the top front and rear pallet rack beams. A locking arm is easily adjusted to secures span track to the rear beam. Another option to combat span track migration is to tech screw the frames to the beams.
Slotted End Supports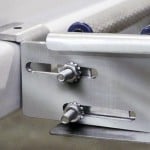 Using end supports is another method for connecting low profile span track to pallet rack beam steps. These brackets install inside the support side channels at each end of the span track frame. The slots allow for you to adjust the length of span track ends, ensuring a proper fit.
High Profile Splice Use a splice to join two sections of high profile span track to create an "extra deep" flow system. With an intermediate pallet rack beam supporting the splice, capacity, flow and use of vertical space are maintained from load point to pick point.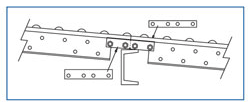 Low Profile Splice Use this splice to join "notched-end" low profile span track sections track-to-track for "extra deep" flow. A pallet rack beam must support the splice to maintain capacity, flow and use of vertical space across the length of the extended span track run.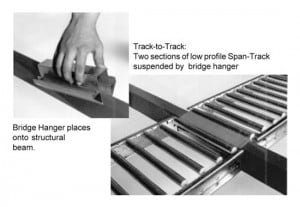 Bridge Hanger A bridge hanger is also used to create an "extra deep" low profile span track system. Placing the hanger onto an infinitely adjustable intermediate structural pallet rack beam as shown allows the flexibility for a constant pitch. Otherwise, hang-ups will occur at the transition point.