T-Bolt Pallet Racking Brand Review
Our reviews compare top pallet rack brands and styles, giving one to five stars in the following criteria: design, availability, competitive pricing, ease of installation and durability. Our next review is on the most the selective rack with a "T" shaped bolt connection: T-Bolt pallet rack.
Design:

T-Bolt pallet rack has a good, secure design. "Yes, but why is it named T-Bolt?" you ask. Well, my guess is that T-Bolt rack utilizes a bolt with a "T" head in its upright-to-beam connection. When connecting the beam to the upright, a "finger" tab at the bottom of the beam clip fits into the upright column slot at the desired height. This holds the beam in place while a T-bolt is inserted through the beam clip and upright column. Turning the T-bolt 90 degrees and tightening the nut on the face of the beam clip secures the beam in place.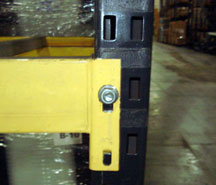 Design: T-Bolt upright and beam connection.
Availability:
Unarco Material Handling, Inc. is the sole manufacturer of T-Bolt style pallet rack, making availablility more limited when compared to new Teardrop or Structural rack. However, with three manufacturing locations in Springfield, TN, Lewisville, TX, and Pandora, OH, T-Bolt rack has greater availability than single-location manufacturers . Availability of T-Bolt in the used market is similar to Ridg-U-Rak Slotted rack: not as prevalent as Teardrop.
Competitive Pricing:

Pricing for new T-Bolt rack is comparable to other roll-formed pallet rack styles (Teardrop, Ridg-U-Rak Slotted, Speedrack, etc). Used T-Bolt pallet racking is a good "bargain brand", in that it's usually less expensive than used Teardrop rack and similar to other used roll-formed rack styles.
Ease of Installation:
Because each beam/upright connection requires a bolt to be threaded and tightened, installing T-Bolt takes more time than selective pallet rack styles that don't use extra hardware (Teardrop, Ridg-U-Rak Slotted, Mecalux). But, T-Bolt is easier to install than other styles with required hardware (Structural, Speedrack) because T-Bolt has a finger that holds the beam in place while you insert and tighten the bolt.
Durability:

The security of the beam-to-upright T-bolt connection makes it virtually impossible to dislodge the beam, providing a safer pallet rack system. T-Bolt pallet rack's capacity and rigidity is comparable to other top roll-formed brands and its manufacturer (Unarco) is a member of the Rack Manufacturers Institute (RMI).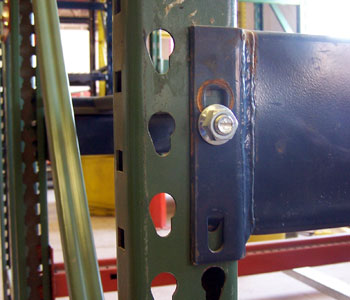 Compatibility: You can have the availability of a Teardrop upright with the security of a T-Bolt beam.
Final Word
T-Bolt pallet rack is a viable option for affordable, roll-formed pallet racking. Another used pallet rack option to consider: T-Bolt beams will interchange with Teardrop uprights. You can have the best of both worlds: the commonly available Teardrop upright with the security of the T-Bolt connection.

T-Bolt: Higher marks in design, competitive pricing and durability make T-Bolt pallet rack a viable selective pallet rack option.