How Can Louvered Hanging Systems Improve Efficiency?
Louvered panel systems are a great complement to your stackable plastic bins for high-density storage or point-of-use workstations. These panels and racks give you even more options to help organize your work and storage spaces and improve efficiency.
Wall-Mounted Units: These flat panels are available in many sizes and can be fastened to walls to keep items together and off the floor.
Floor Standing Models: Single-sided, double-sided and mobile units are available.
Bench-Top Models: These racks are used on worktables to keep parts within easy reach.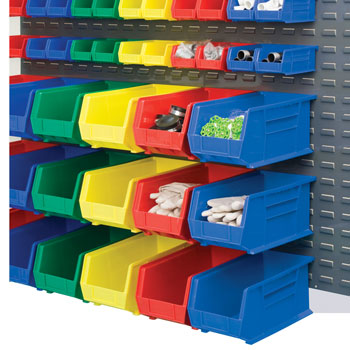 Louvered panels allow a more finished look to your storage areas, while providing strength and durability. Set-up and installation of louvered panels are quick and easy. Contact your Warehouse1 representative about the variety of sizes and styles of Akro-Mils louvered panels and racks available! Bart Eggert is Product Line Manager for Akro-Mils, a North American leader in storage, organization and transport products. For more information on Akro-Mils' full line of products, visit www.akro-mils.com.