How to Choose the Right Industrial Shelving for Your Storage Needs
Industrial shelving is the typical warehouse unit. These shelves are found in almost every warehouse, used by companies like Ikea and Amazon. Industrial shelving is able to hold anything from boxes and tools to chemicals and materials. If you need a simple storage system, industrial shelving is the way to go. Purchasing shelving is easy. From simple steel shelving to mobile aisle shelving, Warehouse1 offers easy solutions to your storage needs. By examining your space and looking at our overview, determining the product you need is simple. Understanding the loads and items you are hoping to store is important to choosing the shelving you need. With a quick rundown of the types of shelving WH1 carries, you can learn how to make use of the space you have.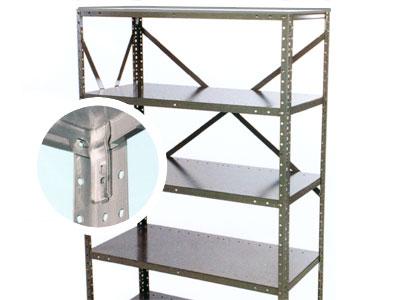 Choosing the right shelving
Bin shelving is great for holding small materials and components. Bins are easy to organize and rearrange to create a more versatile shelving system and are a great supplement to any larger storage system. Choose bin shelving if you need containers to hold your smaller inventory.
Boltless rivet shelving offers easy assembly because it does not use nuts, bolts, or clips to stay together. By utilizing a snap-in system, boltless rivet shelving is a quick storage solution for the customer who doesn't want to deal with an instruction booklet for assembly.
Metal shelving is the standard shelving unit. Metal shelving can store many different kinds of items that come in all shapes and sizes. Extra dividers and compartments can be added to increase storage and sorting space depending on your needs. If you have no idea where to start, metal shelving is your best bet.
Mobile aisle shelving is perfect for freeing up warehouse space. Mobile aisle shelving compacts your shelves together and lets you open up the shelf that you specifically need when you need it. Access records, files, and small parts only when needed by utilizing its track and crank system.
Modular drawer shelving clears up the clutter of left out tools and items. By utilizing pullout drawers, different sized drawers open up storage space while also providing ease of access to tools, small parts, and inventory.
Record shelving creates an easy way to store large amounts of files and boxes. Manage your files efficiently with this accessible shelving option. Free up space in the office by putting those important but rarely used files and records away in a manageable fashion.
Wide span bulk racks hold large and heavy items with ease. These shelves combine pallet racking builds with industrial shelving uses by being able to hold heavier items without the need for extra space. Easy to assemble with many storage levels, these shelves are great for all purposes.
Wire shelving is the shelving for delicate inventory and materials. Wire shelving keeps your inventory safe from germs and contamination by reducing dust and dirt that gathers on shelves. The finishes stop corrosion and extra accessories can customize the shelves to your needs. These shelves are perfect for places that need a clean environment such as food or medical facilities.
How to Measure for Shelving
Now that we've helped you determine what shelving you want, next is determining how much shelving you want. But to do that, you have to figure out how much space you'll be devoting to your shelving and how much you can store per shelving unit. Don't worry, we have steps to help you on measuring your space.
Determine the overall width of shelving area. This is the amount of side-to-side space you wish to store your product in.
Determine the width, depth and height of the product being stored.
Determine the weight of product to be stored, and the number of products to be stored per shelf.
Determine the width of the individual shelf units needed. This is the left-to-right dimension.
Determine the shelf depth. This is the front-to-back dimension.
Determine the weight each shelf will need to bear based on the weight of stored product, and number of products per shelf. This determines the needed shelf capacity. Note that this capacity is based upon evenly distributed loads.
Determine height of shelving needed. Ceiling height and number of shelf openings required can help determine the height needed. Shelf openings are the space between shelf levels. Remember to measure your product height when determining your shelf opening size.
Determine whether you want the shelving unit to be open-type or closed-type.
If you don't have time to measure shelving, just ask us and we will design the most efficient layout for your spacing! Contact us today and we will help you measure and design your storage area.
Used vs. New
Used shelving will contain every component needed for assembly but will have been bought and used in the past
Reconditioned/refurbished shelving will contain every component needed for assembly just like used shelving but will also including repainted decks and new peg boards.
New shelving will contain every component needed for assembly brand new straight from new stock.
Installation Tips and Tricks
→ If you are having trouble creating a layout for your shelving check out our services! We offer help in designing a layout for your space to maximize your storage capabilities. → Take measurement of the space that you have along with the items you want to store. → Remember to ensure you have the proper tools and parts to assemble the shelving
Care and Maintenance
Check shelving on a monthly basis in order to guarantee that the structure is up to code and standards
When cleaning metal shelves, remember to use cleaners made specifically for metal in order to not harm or corrode the shelving
Keep count of stock placed onto shelving in order to not overload and cause a dangerous situation
Make sure chemical materials do not accidentally react with shelving or nearby materials and have enough space on shelving
Safety
→ All our products meet OSHA Standards.. → With our products it is recommended that you have a strong step ladder to create an easy and safe environment for your workers. → Make sure shelves are not overstocked and crowded in order to reduce warehouse accidents. Contact us for more answers to your industrial shelving questions!