What are Common Capacities and Lengths of Span Track?
This standard span track capacities and lengths guide can help you determine if span track is the best type of gravity racking for your product. Depending on product weights, unsupported spans can run up to 10'. While high profile span track can overhang beams at front and/or back ends, low profile span requires an accurate measurement of pallet rack depth.
To determine the low profile track length required, you need to know the between beam dimension (also known as unsupported span). To find the between beam dimension, measure the level distance between the front and rear pallet rack beams.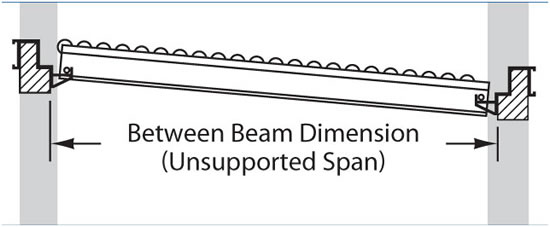 | Unsupported Span | Track Cap. | High Profile Max. Track Overhang |
| --- | --- | --- |
| 3' | 50 lbs./ft. | 1' |
| 4' | 50 lbs./ft. | 1' |
| 5' | 50 lbs./ft. | 1' 4″ |
| 6' | 50 lbs./ft. | 1' 8″ |
| 7' | 50 lbs./ft. | 1' 8″ |
| 8' | 40 lbs./ft. | 2' |
| 9' | 30 lbs./ft. | 2' |
| 10' | 20 lbs./ft. | 2' |