Curtains for Improving Warehouse Efficiency
Warehouses are often plagued with high energy consumption costs from trying to provide the appropriate temperature for a product. Ultimately, a large section that does not need to remain at a certain level is heated or cooled costing companies extra in energy expenses every year.
According to Evergy, "Heating, ventilation and air conditioning (HVAC) make up 43% of commercial building energy consumption."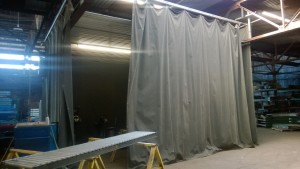 The solution is simple and affordable and doesn't require rethinking your entire warehouse construction. Industrial companies have been taking advantage of the unique attributes of vinyl, PVC and mesh curtains for more than controlling temperature levels in a facility. Cordoning off an area with a warehouse curtain provides companies with several benefits.
Mobility – With modular designs, changing a space to provide the appropriately controlled environment for a product is a simple matter of hanging the industrial curtains. Curtains can be stationary or use a track system to move around when you need different configurations for your workspace.
Controlling physical byproducts – Whether it is a ghastly smell from a trash compactor, dust, or some chemical contaminations, curtains provide a way to close off an area while maintaining normal work processes outside of the curtain. They help maintain the air quality, control sparks, fumes and welding flash.
Controlling noise – Curtains are better at noise control than other solutions due to the sound-absorbing properties of material. Decreasing noise exposure in the workplace is a matter of compliance and worker safety.
Controlling humidity – This goes hand in hand with temperature control. Certain foods and other products and plants need to be kept at strict humidity levels for safety. The ability to specifically control and contain humidity levels in one area without redesigning a space is a great benefit for many warehousing situations.
Separate different parts of your operation – Curtains can keep your parts, inventory, finished goods and production areas separate as well as maintain cleanliness and dust control for finished goods and inventory.
Solutions for most industries – Curtains are used in warehousing, schools, farms, stores, and manufacturing buildings. The unique solution has been applied with success in a number of different facilities.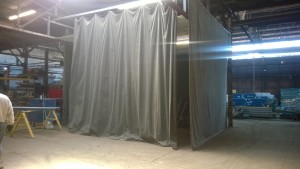 Evaluate the needs and processes of your facility to determine whether there is a need for industrial curtains. Warehouse1 will be able to answer any questions you have on your unique warehouse needs. The quick return on your small investment should be high and allow you to focus on more pressing issues within your warehouse. For more information, contact Warehouse1.