Advantages of Buying Used Pallet Racks
The number one advantage of buying used pallet rack is the size of your wallet after the purchase. New pallet rack is considerably more expensive, and buying used will create significant savings for your company. However, there are other advantages to purchasing used equipment you should consider.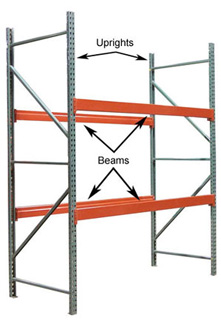 Buying a used pallet rack is simple. The construction of pallet rack is straightforward, and can be easily inspected for damage and issues, reducing the risks associated with buying used. Unlike with mechanical equipment, people can see for themselves if the equipment is in working condition, and can spot most dire flaws. A used rack will likely serve you as well as its new counterpart, for a fraction of the price.
This type of equipment is designed to store heavy pallets, and a little dust won't change that. Moreover, many used sellers are more than happy to keep in contact with their buyers. If any issues do arise, you have a point of contact. When buying used, you can often inspect the racking in person, with the convenient, central location of Warehouse1. Need it shipped? No problem, we have great rates on shipping to all corners of North and South America.
Racks can easily be restored in our fab shop to look like new. A small amount of work can get your used pallet racking into top shape again, so you don't have to sacrifice aesthetic appeal for a bargain. Some sanding and paint can get your new piece looking as good as a new model, while still meeting your price needs. The quality of your rack can be verified through the seller and the original manufacturer. If you have questions regarding your used equipment, it is easy to get in touch with the maker to ensure that the product is right for you.
There is no need to go into the purchase with your eyes closed: verifying the usability of your rack is as easy as a phone call. Although there are many benefits to buying used pallet racking, the biggest advantage you can give yourself as a buyer is access to help and information.
If you'd like a good starting point on your search for the right rack, contact our team at Warehouse1 of knowledgeable professionals. We can help answer your initial questions, and get you on the path to buying the right piece of equipment for your needs.