How Do I Know if I Need a Cantilever Rack?
Cantilever racks are useful storage systems, but they may not suit every business need. Here are some quick guidelines to help decide if you'll benefit from this system.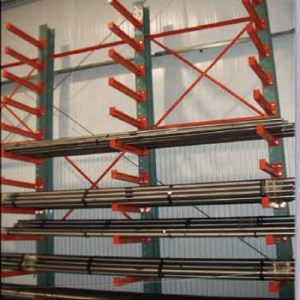 What Am I Storing?
Cantilever racks are ideal for storing long, bulky items that don't come in pallets. This includes lumber, piping, steel bars, tubing, or furniture. The lack of a front column means these can be easily loaded and unloaded. This is particularly useful with the oddly sized and shaped materials previously mentioned. These are also useful for storing materials that come in pallets.
The main advantage here is that cantilever racks can often be loaded and unloaded more quickly than standard options, and the lack of a front column increases the amount of storage available while decreasing the clearance needed. Although there are storage solutions available for smaller items, cantilever racks offer no particular advantage in these cases, particularly when the costs of modification are included.
How Long Will I Be Storing It?
Cantilever racks do not come with any shelving. Certain items, such as tubing, may deform if stored for long periods of time on these systems. This is due to the lack of support cantilever racks have in their center. Wood products may prove especially difficulty if the rack is not adjusted properly. Wood can deform if left alone too long. Pieces of lumber and pallet support on the bottom of a cantilever rack may bow and eventually break.
To prevent this from happening, cantilever arms may have brackets that hold support bars allowing wire decks to be installed at each level which will provide for complete longitudinal support for your inventory.
What Warehouse Organization Would Require Modification?
Although more can be stored on cantilever racks than traditional racks, and more cantilever racks can be fit into a space, switching over entirely takes special design considerations. Make certain you understand the clearance requirements of your machinery and the space requirements of your facility. Personnel will also require training on how to appropriately load and use the cantilever racks. Check that these instructional costs are accounted for.
What Add-Ons Would I Need?
In addition to small items requiring decks, cantilever racks require modification to handle spools of material. If they're for outdoor storage, they should also be equipped with roofs. Ensure that you figure in the expense of any modifications necessary for your material before purchasing a cantilever rack.
For more information on these systems and other options for your storage needs, contact Warehouse1.