Smart Manufacturing is the Wave of the Future
In a world where everything is shifting to the smarter, it's inevitable that a change to more efficient ways of doing business will creep into every sector. To the manufacturing and materials handling industry, this shift is already occurring. Long gone are days without computers. And in a data-driven world, you have to get smarter. You already know about smart phones, smart cars, and smart watches. So be prepared for a future with the smart manufacturing model. At Warehouse1, we sell vital parts to keep your manufacturing facility up and running by providing materials like pallet racks and lifts to ensure your business is running smoothly while offering great shipping rates to all parts of the country. Let's examine what the smart manufacturing model is, and how it will shape supply chain management in the future. What is the Smart Manufacturing Model?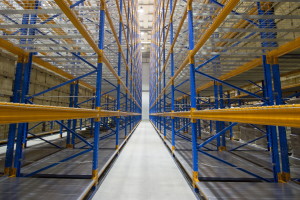 The smart manufacturing model describes the shift from traditional to Information Technology-driven factories. Sensors are used to monitor and measure data along all components of the production process. This data will be used to streamline production by determining where the line falls short. If we use a power conveyor as a physical example, each component of the conveyor is isolated and measured for performance. The motor has sensors. The belts have sensors. All electrical connections are monitored. Now take the monitoring process, and expand it to everything from the software you use to the shipping methods. The totality of the process is examined, and each component along the supply chain is analyzed. Why is it good?
Environmentally Friendly -- As the world pushes to a more environmentally efficient operation, facilities are able to diminish their digital footprint by knowing when to turn off machines, saving money and precious energy.
Worker Safety -- In utilizing sensor technology, machines are able to stop themselves as they malfunction. This eliminates occupational accidents and protects the lives and health of many employees.
Better Products -- A more efficient warehouse doesn't necessarily lead to fewer products. In fact, with the smart manufacturing model, we are able to enhance many of the tools on the line.
More Money -- The sum of less working hours, fewer costs, and better efficiency always equals more revenue.
For any of your warehouse needs, give us a call and get a quote today with Warehouse1. Our helpful staff is standing by ready to answer any of your questions.