What Span Track Accessories Will Improve My System?
Adding accessories to your span track system can expand the capabilities of this style of gravity flow racking. Here is an introduction of the most popular span track accessories available.
Impact Trays and Additional Rollers
Impact trays are most often added to the rear/input end of the span track to prevent damage when careless dropping of heavy loads may otherwise cause the first few rollers to dent or wear excessively. This piece of galvanized steel snaps over the span track rollers. Impact trays can also be added anywhere along the track to slow down product.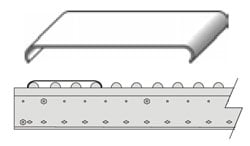 Pick Trays
Improve pick accuracy and rate in 'each pick' applications by installing pick trays to low profile span track systems. Tilted product presentation maximizes product access and view. Standard capacity of pick trays is 50 lbs./ft.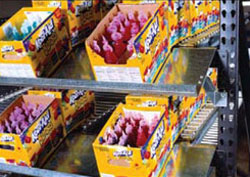 Adjustable Pick Tray
Adjustable pick tray's angle can be adjusted from 15° to 35° by relocating support pins. 18" or 24" deep pallet rack uprights or posts are required with an adjustable pick tray. Connect low profile track sections to adjustable pick tray with a bridge hanger. Standard sizes are 5' and 10' wide, 18″ and 24″ deep.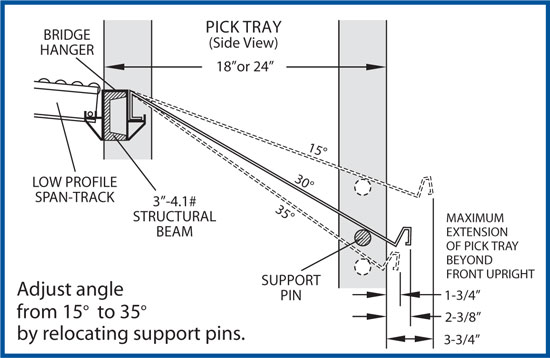 Add-On Pick Tray
Attach add-on pick trays to existing pallet rack without adding pallet rack uprights, posts or beams. Front/pick end of low profile span track drops into special front treatment and a bracket connects upright to tray for support. Standard sizes are 3' to 8' wide, 12″ and 15″ deep.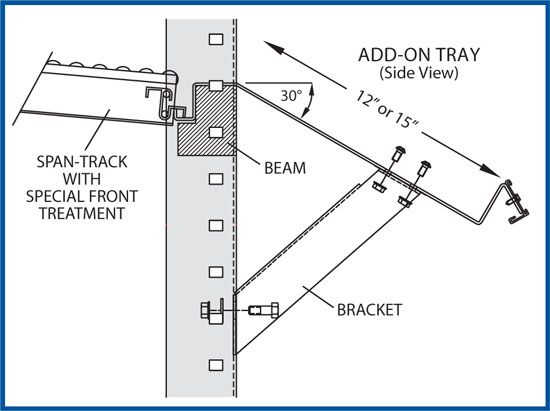 Knuckled Span Track
Another span track flow system perfect for "each pick" applications knuckled span track. Available in both high profile and low profile, knuckled span track features a 20° angled front/pick end that increases pick accuracy and efficiency.
High Prolife Knuckle
High profile knuckle rests on pallet rack beams and the entire knuckle must extend beyond the front beam. Track lengths, load capacities, construction and installation are identical to standard high profile span track.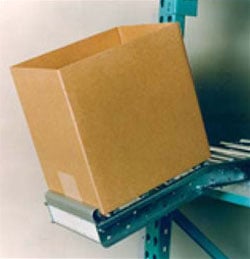 Low Profile Knuckle
Low profile knuckle rests inside pallet rack beams, improving product visibility and access without consuming precious aisle space. As with high profile, low profile knuckle track lengths, load capacities, construction and installation are identical to standard low profile span track.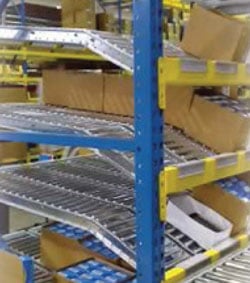 Stops
How your product stops at the end of the track (a very important step in the operation!) depends on your span track profile. Low profile in hangers utilizes the pallet rack beam as a stop. Low profile that sits in beam steps and high profile require a stop or your product will flow onto the floor (not good). Stops can be built into the track or added on. In some cases with low profile in beam steps, you can adapt a piece of angle for stops. This solution saves on the cost of hangers, however usually at the expense of appearance.