Pallet Rack Repair
Warehouse shelving and pallet racking are the backbone of your warehouse. They are the central hub of your business and your investments depend on them, so why not take care of them? Damaged pallet racking can have huge consequences. It can lead to pallet rack collapses and puts your inventory and more importantly, your employees, at risk.
Because rack collapses are dangerous or even fatal, and could cost you tens of thousands of dollars in inventory, rack inspections are always a good idea. In comparison to a collapse, new uprights are very inexpensive.
Causes of Damage
Here are the most common reasons for pallet rack system failure:
Damage from fork lift trucks: Accidents or misuse involving lift trucks is the leading cause of pallet rack collapse.
Item overload: Loading rack systems with more than the maximum capacity can result in component failure.
Operational changes: When business demands call for a new operational procedure not supported by the current system's design.
Incorrect use/installation: Insecure installation or using incompatible components can compromise the integrity of a system.
Faulty Equipment: Purchasing systems from a non-reputable seller may put a warehouse at risk.
Inspections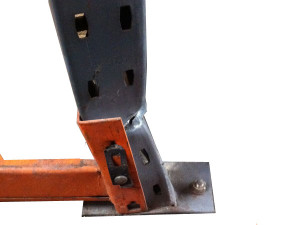 Damages to your system are not always obvious, and can be easily overlooked. A visual rack inspection should be performed often, annually at minimum, to catch any signs of damage before an accident occurs.
Be thorough in your visual inspection and take action by unloading inventory and flagging the systems as out of use. The question is, what do you look for in a rack inspection? As you look over your systems, check for the following:
Tilted or leaning rack systems
Overloaded or incorrectly loaded racks
Rust or corrosion
Bent or dented uprights and beams
Incorrect hardware or faulty attachments
Repair?
When you have damaged shelving, repairing the system or replacing it with a new system are your options. The repair process includes removing the damaged portion of your rack system and installing a repair kit.
The most common repair kits are the bolt-on and welded pallet rack repair kits. Not only is repairing a system less expensive, it boasts other benefits including:
Less unloading and reloading inventory
No dismantling of accessories
Less than half the time to repair vs. replacing
Or Replace?
Ultimately, the decision to repair or replace your rack systems depends largely on the scope of the damage. Sometimes, replacement is the only safe option for your damaged systems. Some scenarios include:
The front or back of your pallet rack has sustained significant damage.
If your uprights are not very tall or custom, it is usually cheaper to replace them.
There is damage is various areas and heights.
Don't let the price tag of brand new racking hold you back from keeping your warehouse safe. Buying used racking as opposed to new is a common practice with savings up to 60%. Besides the savings, there is virtually no difference between the two.
While buying used equipment can be easier on the budget, always make sure you know exactly what you're buying. Inspect products in person or ask for photos. Research a company's credibility and ask many questions.
Here at Warehouse1, we specialize in used pallet racking. With our in-house fabrication shop, we make used racking new again for more savings! Contact us for a rack inspection or to do your rack repair today!