What Is a Pick to Light System?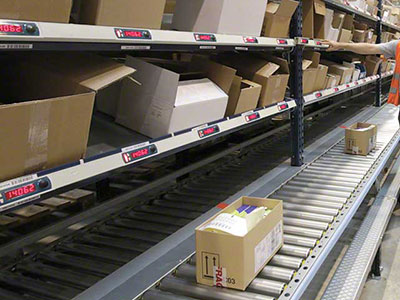 In an exceptionally competitive and fast-paced market, enterprises of all kinds are in a constant race to gain whatever edge is possible in warehousing and logistics. Automation and other productivity-boosting options abound, but it can be difficult to know which systems to implement or when.
A bright spot among these many order picking solutions? Pick to light. This revolutionary approach promises to transform the order fulfillment process, making it possible to achieve elite levels of efficiency, functionality, and accuracy that once seemed all but impossible.
To illustrate the value of pick by light in modern warehousing, we've highlighted a few of this system's most noteworthy benefits, as well as opportunities for implementing it in a variety of contexts.
What Does Pick to Light Mean?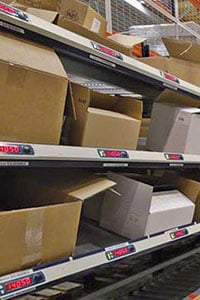 Pick to light (PTL) has existed in some capacity for decades, but the PTL concept centers around the highly strategic use of lights. That's right: something as seemingly simple as illumination can completely change how picking transpires in an otherwise ordinary warehousing environment.
Typically, this system incorporates lighting terminals, which are placed at the appropriate pick locations. These can be traditionally wired but are increasingly connected via WiFi to deliver extra flexibility.
PTL software communicates with warehouse management systems (WMS) to control PTL lights with ease. On the employee's end, the process is simple: read the order, follow the light modules to find the appropriate SKU, and finally, use a confirm button to verify that the pick has been completed.
This approach should not be confused with put to light, which, although similar in some respects, involves an opposite order of operations. With put to light systems, the main focus is on incoming goods, as opposed to outgoing products. Both can be valuable, but PTL is uniquely helpful in the modern warehousing environment.
The Benefits of Pick to Light Systems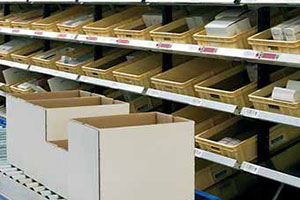 Light-directed picking can provide a wide range of benefits for warehousing operations. A lot depends on how and where PTL is implemented. In general, it's best in a facility with a minimal, but dense pick face: lots of SKUs situated within a small space.
Do you suspect that your facility could benefit from PTL but want to confirm its benefits to justify the cost of implementation? The following are just a few of the many compelling reasons to harness the power of this cutting-edge solution:
Improved Accuracy
Struggling to decrease stubbornly high pick error rates? This should be an urgent area of improvement: accuracy issues can be costly both in the short and long term.
Radical improvements are possible if you implement a pick to light system, as this limits the need for employees to constantly keep track of picks. Instead, they can depend on PTL systems to light the way. Compared to other picking systems, this approach removes human error from the equation, leading to exceptional accuracy rates.
Increased Efficiency
As warehouses grow increasingly complicated and handle an ever-increasing scope of SKUs, it becomes even more important to develop systems that streamline navigation and eliminate backtracking whenever possible. While kitting and other material handling methods can assist in this process while also limiting labor costs, pick to light systems add an extra layer of productivity.
This is one of the chief advantages of this unique picking process: it frees pickers from constantly needing to determine where they are and where the items they need to pick are situated. Instead, they can look to simple, highly intuitive systems of illumination to point them in the right direction. The result? A skyrocketing pick rate and ultimately, an impressive return on investment.
Limited Learning Curve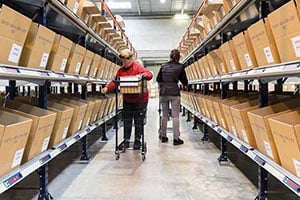 High turnover is a major problem in the warehousing industry. Picking operations, in particular, can struggle to retain the most diligent and talented workers.
Given the high cost and time commitment for training new employees, intuitive systems are preferred whenever possible. These allow workers to get started almost immediately and produce impressive results even after receiving limited training. This is a huge advantage of PTL, as its learning curve is practically nonexistent as compared to other picking solutions.
Easy Integration with Existing Systems & Software
Implementation is often a top source of concern for advanced tech solutions, but this shouldn't be a problem with PTL. This integrates almost effortlessly with existing WMS or enterprise resource planning (ERP) solutions, so there's practically no learning curve. What's more, PTL integrates or can be used alongside many other solutions, such as voice picking, conveyor systems, and barcode scanners.
When Should a Warehouse Use These Systems?
While a variety of enterprises can benefit from PTL technology, some facilities are better suited to this than others. In certain locations, picking technology can actually be problematic, in part because it can be costlier to implement than other solutions.
Concerns to keep in mind before you implement a PTL solution include:
Lack of location verification. While confirm buttons make it possible to verify that picks have actually been completed, location verification is not available with PTL. This can be overcome, to some degree, by integrating PTL with other solutions.
Limited flexibility. While PTL's learning curve is minimal, the actual process of implementing these systems can be time-consuming and financially intensive. For this reason, PTLs are best reserved for locations in which they can be implemented just once and then allowed to remain in place as long as possible. Hardwired solutions, in particular, are among the least adaptable picking systems.
Challenging to scale. If your business frequently requires adjustments based on seasonal fluctuations in order volume, PTL might not be ideal. These systems aren't all that scalable, due, in part, to the flexibility issues we've already mentioned. Beyond this, PTL indicators simply aren't as noticeable or as impactful within a vast space.
Boost Order Fulfillment With Today's Best Tools & Technologies
Pick to light technology isn't ideal in every situation, but it can make a world of difference when implemented in the right place and at the right time. Done right, this picking method can produce near-perfect order accuracy while also prompting significant improvements in efficiency. Employees appreciate how easy PTL systems are to use, so this is also an excellent option for improving worker satisfaction and morale.
Whether you're intrigued by pick to light or suspect that another solution will serve you better, you'll be impressed with the sheer range of options available when you work with the team at Warehouse1. We'd love to discuss current challenges and opportunities at your warehouse or distribution center — and steer you in the right direction. Get in touch today to learn more.