Palletizing Conveyor Systems
Heavy loads have long been a point of frustration within warehouses and distribution centers. In an ideal world, these loads could be moved as quickly and efficiently as their smaller counterparts, without risking damage or safety issues. In reality, however, large loads often present considerable logistical concerns. Thankfully, these can be addressed with help from heavy-duty palletizing conveyor systems.
Designed to handle the most unwieldy pallet loads, today's top conveyors promote smoother and more efficient operations by limiting the need for heavy lifting among operators. Featuring durable arrangements of belts, skatewheels, or rollers, these systems typically place heavy loads close to the ground, where they can be more easily conveyed. They may use gravity, motors, or other solutions to keep pallets moving.
Pallet conveyor systems are more versatile than they may seem at first glance. These systems are used in a variety of industries, such as agriculture, automotive manufacturing, and more. Within these and other fields, customizations ensure that the unique concerns of each sector are addressed.
That's where Warehouse1 comes in. Our team of experts provides strategic solutions designed to fulfill the unique needs of each operation. We prioritize safety, security, and efficiency. Keep reading to discover the role we can play in implementing a variety of pallet handling conveyors, and contact us to learn more about our services.
Types of Pallet Conveyor Technologies
Pallet conveyors take many forms. They can be adjusted according to the size and weight of the conveyed products. Depending on the situation, specific pallet conveyor technologies may be called upon to accommodate low temperatures or other harsh conditions. The following are among the most commonly implemented technologies and adaptations for pallet conveying: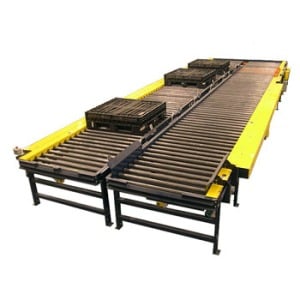 Chain Driven Live Roller (CDLR)
Ideal in harsh conditions, these welded systems feature sprocketed rollers, which produce impressive driving power. In addition to being among the most durable solutions available, CDLR systems are also some of the most cost-effective.
Gravity Roller
Built on an incline, this configuration makes it possible to convey a variety of items without requiring motors. While gravity rollers can be used for many warehouse applications, they are particularly effective for pick and pack operations.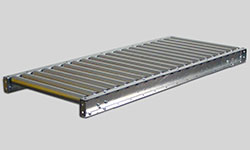 24V DC Powered/MDR Conveyor
As a relatively recent addition to the pallet conveying world, motor-driven roller (MDR) systems rely on 24V DC motors, which can be built directly into the rollers. These rollers are then distributed throughout pallet conveying systems. Quiet and safe, they promote the smooth and swift flow of pallets while also controlling accumulation.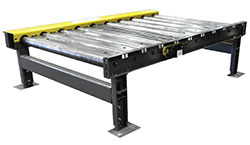 Belt Driven Live Roller
A simple and effective solution for handling a variety of items and pallets, belt-driven live rollers are among the most common solutions for today's pallet conveying operations. The rollers within these structures are driven, as their name suggests, by the belts situated beneath them. These belts assist with transporting items across long distances even when a single motor is used.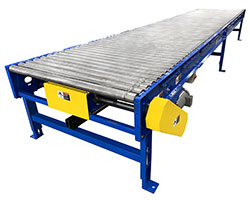 Pallet Transfers and Turntables
While many warehouses rely on roller curves to adjust pallet positioning, this can also be accomplished with turntables. These provide swift changes in routes or directions while accommodating heavy loads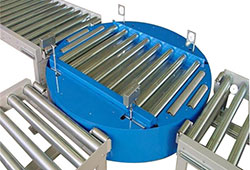 Advantages of These Systems
With so many different pallet conveying systems available, it's possible to achieve a variety of material handling objectives. Safety is a top concern, particularly when dealing with heavy loads. Additionally, palletizing conveyors can dramatically improve throughput for operations in which efficiency is otherwise difficult to achieve.
Another benefit? Versatility. Given the sheer range of technologies and applications available, it should come as no surprise that palletizing conveyor systems are utilized in a wide range of sectors. The following are among the most common applications:
Distribution centers. Bulk loads are extensively utilized in modern distribution centers, and the right conveyors can deliver significant improvements in precision. These solutions are also ideal for addressing manual labor concerns, such as the safety hazards associated with handling large loads. E-commerce companies, for example, often use the many different types of pallet conveyors to streamline order fulfillments.
Manufacturers. As automation speeds up the manufacturing process, efficient pallet conveying systems keep bulky parts or materials moving swiftly and safely. These handling solutions are particularly valued in automotive manufacturing.
Food distribution and frozen storage. The durability of palletizing conveyors makes them a great fit for the harsh freezer or cold storage environments. There, excellent ergonomics — along with automated solutions — reduce the need for manual labor.
Agriculture. As with food distribution, agricultural pallet conveying may involve unique circumstances that call for durable and adaptable systems. These solutions maintain high-quality standards in a competitive industry with little room for error.
Warehouse1's Custom Pallet Conveying Systems Solutions
Given the wide range of pallet conveyor solutions options available, it can be difficult for enterprises to know where to start. At Warehouse1, we provide helpful guidance, with the intention of creating a palletizing conveyor solution that will provide an exceptional return on investment. We believe that customized systems can make all the difference when conveying large loads. Contact us today to learn how we can be of assistance as you select and implement pallet handling systems.