Lighting Survey
Energy Efficient Lighting
Retrofitting your facility with an industrial energy efficient lighting system saves energy costs and the environment while increasing your lighting and productivity levels.
Your facility most likely uses metal halide lighting fixtures as millions of facilities in the country still use these inefficient fixtures. Replacing metal halide fixtures with energy efficient lighting fixtures such as T5 High Output (T5HO) or T8 fixtures brings you immediate benefits:
save energy costs
increase lighting levels
save the environment
increase productivity levels
Save Energy Costs
A simple retrofit with minimal design or engineering can decrease electricity usage by more than 50%. This translates to reduction in lighting related costs by more than 50%. An energy efficient lighting design often boasts cost savings of 60%.
A T5HO lamp has an average life of 35,000 hours, compared to 20,000 hours with a metal halide lamp, saving on industrial lighting costs.
Light Fixtures That Pay for Themselves!
Check out this cost savings analysis, demonstrating savings gained from switching out your existing metal halide fixtures with energy efficient lighting fixtures.
*Savings based on 500 fixtures running 6700 hours at $0.08 per kwh. Actual savings can be dramatically higher when taking into consideration transmission, peak demand, taxes and other surcharges.
The cost savings analysis shows how much an industrial energy efficient lighting system saves you BEFORE incentives available from your local power and light company to encourage these changes to more efficient fixtures.
Save the Environment
Reduction in energy usage decreases the amount of air pollution (carbon dioxide, sulfur dioxide and nitrogen oxides) generated from burning fossil fuels.
Increase Lighting Levels
Metal halide lamps lose lumens, or ability to light, every time they are turned on. By the middle of their 20,000 hour life, they put out only 45% of their original lumens. T5HO lamps maintain 94% of their lumens until the end of their life.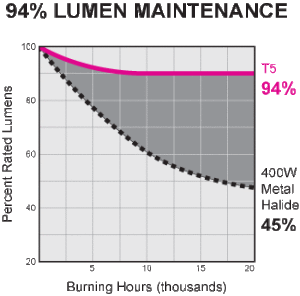 Metal halide fixtures can take up to 10 minutes to re-light, whereas T5HO energy efficient lighting fixtures re-strike instantly.
T5HO fixtures have a closer color rendering index (85) to daylight (100) than do metal halide fixtures (65). The higher the CRI, the more vibrant the color and greater the visual clarity.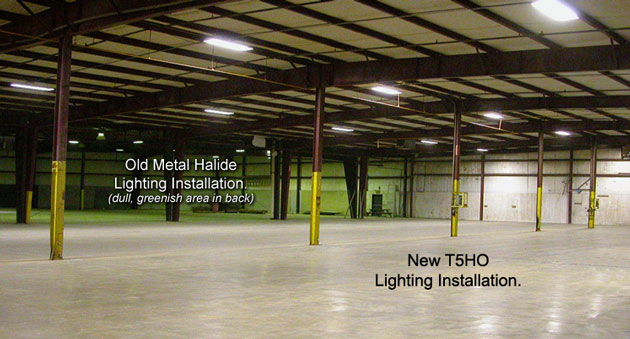 An energy efficient lighting design limits wasted light. T5HO fixtures make more sense for aisles as the beam is linear. The round beam of metal halide fixtures wastes light in aisles.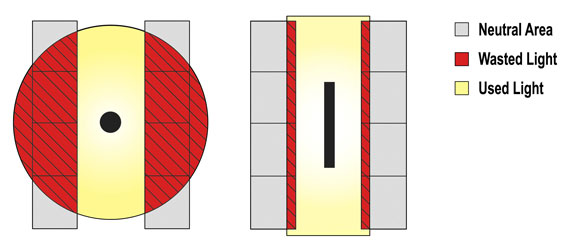 Increase Productivity Levels
Research from Westinghouse Lighting Solutions has found that in facilities where metal halide fixtures were replaced with energy efficient lighting systems, absenteeism decreased, while employee morale and correct order picking increased.
T5 lights provide a much healthier and comfortable environment to work in, resulting in happier people with higher productivity!
All data for charts provided by Westinghouse Lighting Solutions