We have Rousseau Modular Drawer Cabinets now in stock! Similar to the Snap-On or the Vidmar cabinets in workshops, warehouses, auto-dealerships & government storage locations.

Now in Stock! Heavy duty cabinets in the most popular size: 30"W x 27"D x 60"H with the following standard features:

10 drawers, 9 compartments in ea.
Key lock
Drawer sizes: (2) at 4", (5) at 6", (2) at 8"
Heavy duty 400 lb. capacity drawers
2" forklift base
Available in Light Gray (122083) and Classic Blue (122084)
In our showroom, come take a look!

Our regular low price:

$1,861

20% off Sale Price:

$1,488

Offer vaild through 03/07/14.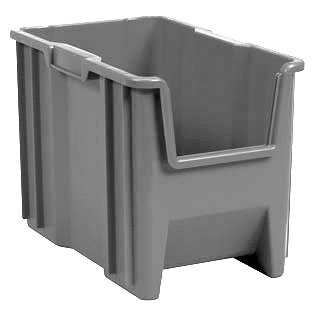 #13014
save 35% off, while they last!
Plastic storage bins stack to form tall, stable storage containers. A curved upper lip & large radius corners add to the strength. Wide-hopper front opening allows for easy access to bulky items. The side ribbing insures stability when bins are stacked.
17.5"w x 10.88"t x 12.5"d
75 lb. weight capacity.
Large comfort grip handles
Virtually unbreakable
Gray
$8.95 per unit
pallet qty. only, 56 units per pallet
FOB: Ohio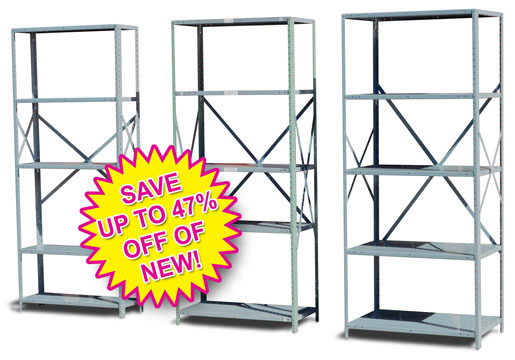 USED WAREHOUSE SHELVING

SIZE OF SECTIONS
PRICE PER SECTION,
IN ROWS
PRICE PER
SINGLE SECTION
ADDITIONAL
SHELF
Depth

Width

Height
Shelves
12"
36"
6-7-8'
5
$50.00
$55.00
+ $5.00
18"
36"
6-7-8'
5
$65.00
$70.00
+ $8.00
24"
36"
6-7-8'
5
$70.00
$75.00
+ $9.00
24"
48"
6-7-8'
5
$90.00
$95.00
+ $13.00
SINGLE SIDED UPRIGHTS - TOWER AND BASE

Tower
Item #
Tower
Size
Single Sided Base
Item # 100094
Lb.
Cap.
Price
Useable
Overall
100095
8'
48"
62"
8,800
$312.39
100097
12'
48"
62"
8,500
$385.95
100098
16'
48"
62"
7,500
$580.21

DOUBLE SIDED UPRIGHTS - TOWER AND BASE

Tower
Item #
Tower
Size
Double Sided Base
Item # 100092
Lb.
Cap.
Price
Useable
Overall
100095
8'
48"
107"
17,600
$386.27
100097
12'
48"
107"
17,000
$459.82
100098
16'
48"
107"
15,000
$654.08

48" BRACE SETS

Tower
Size
No. Horiz. Braces
Item # 100088
No. "X" Braces
Item # 100090
Price
8'
2
0
$54.74
10'-14'
3
0
$82.11
16'
4
2
$145.98

72" BRACE SETS

Tower
Size
No. Horiz. Braces
Item # 100089
No. "X" Braces
Item # 100091
Price
8'
2
0
$75.28
10'-14'
3
0
$112.92
16'
4
2
$200.74

Item #
Description
Price
100077
36" Arm, Straight, Tapered, 1500# Capacity, Heavy Duty, 10" High Bracket
$39.63
100078
48" Arm, Straight, Tapered, 1000# Capacity, Heavy Duty, 7-1/2" High Bracket
$40.29
100079
48" Arm, Straight, Tapered, 2000# Capacity, Extra Heavy Duty, 10" High Bracket
$50.62