Healthcare Storage Products & Solutions

The healthcare field is full of cumbersome medical records, small instruments, and large equipment that require sterile storage solutions to keep them safe, secure, and out of the way during emergencies and day-to-day operations.
Warehouse1 carries a variety of healthcare products to make your hospital as efficient as possible. How do we accomplish this? Our products are:
Designed to maximize valuable space
Designed for easy access in times of need
Mobile and able to be easily transported throughout your facility
For healthcare organizations, timing is crucial. Having convenient access to healthcare supplies can make all the difference in saving someone's life. Warehouse1 can help determine what medical supply storage equipment can help with your needs, both for short-term crises and long-term organization.
From individual patient rooms to the operating room, we're here to help you overcome your storage challenges. Contact us today to get in touch with us about how we can meet your needs. We're ready to help you find solutions that ensure you provide the best patient care possible.
---
Medical Storage Equipment Options at Warehouse1
It's not just about buying the right equipment solutions — it's about building a complete, comprehensive storage system that works for your healthcare organization. Here's what we offer:
The healthcare industry sees a massive amount of paperwork when it comes to healthcare records. If your paper files aren't properly organized, this can cause some major difficulties.
Our healthcare record storage solutions help reduce clutter and ensure you can easily find and retrieve the patient information you need. They are also completely customizable and can be made to fit your needs.
Rapid Sanitizing Systems: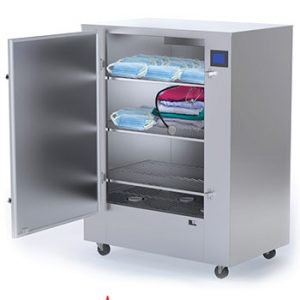 Gear rapid sanitizing systems (RSS) use a chemical-free, dry ozone process to kill up to 99.99% of pathogens and viruses on masks and PPE. Ozone destroys bacteria and viruses more effectively than chlorine and there are no harmful residuals because it decomposes rapidly.
Service carts and medical supply storage carts provide versatility and increase productivity for doctors and nurses who need to bring a variety of items and equipment to several patients at once. They're also ideal for transporting supplies from one area of the facility to another.
To further enhance efficiency, it's smart to have a central storage location where your carts can be stocked for the day, eliminating the need to run back and forth to closets. We offer a variety of medical service carts to meet your specific needs, from simple to heavy-duty carts with up to a 5,000 lb. capacity.
Our medical supply bins and cabinets can help you keep the many small items you use on a daily basis well-organized and separated. Whether you're storing PPE or cleaning supplies, we have cabinets and shelving systems to meet your everyday demands. From wire shelving to mobile bins to stationary bin shelving, our sterile storage solutions are designed to help you maximize precious floor space while staying organized.
Contact Warehouse1 for help with properly outfitting your space to achieve maximum productivity. Get your facility set up for success with our healthcare storage solution expertise and high-quality new and used material handling equipment.