Average Warehouse Sizes & Space Planning Tips
Warehouses are used for a number of reasons, including storage, manufacturing, merchandising, and raw materials gathering. It's important to understand how the average warehouse size affects planning—in other words, you have to be sure your warehouse is the right size for your needs. Most businesses embark on building new spaces instead of refurbishing old or existing structures, so they rely heavily on thorough planning for an accurate build.
In any case, whether refurbishing or working with a new build, you need a clear idea of the warehouse layout (the dimensions and other specifics) to ensure you don't end up with a facility that hinders productivity. Taking the time to clarify the dimensions, calculations and other elements will save you a lot of headaches!
Feeling stuck? Read on to learn more about finding the right warehouse square footage for your needs.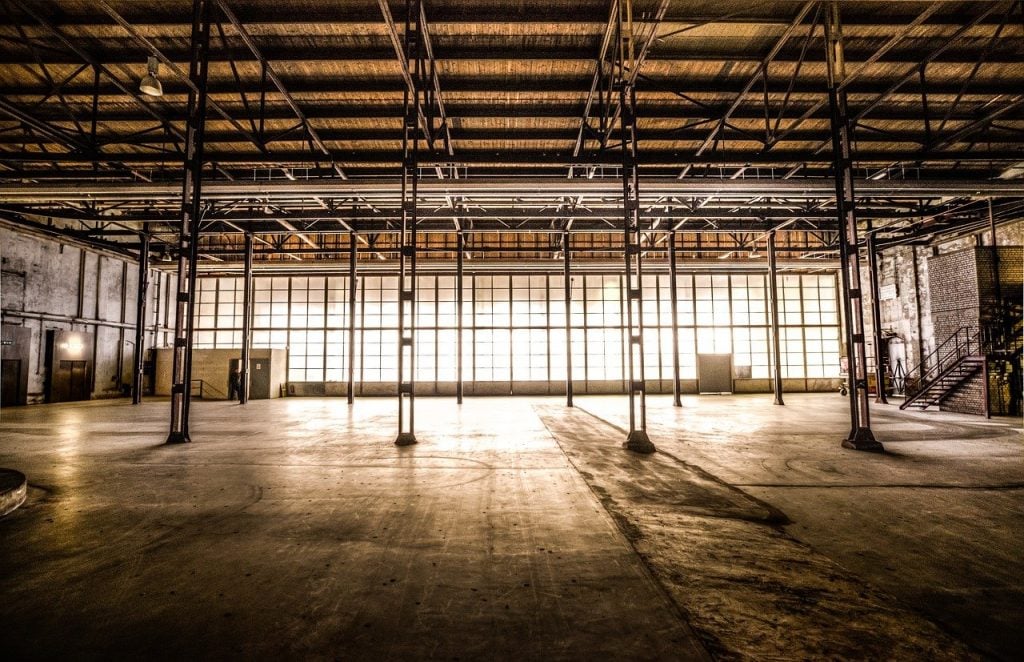 How Big is the Average Warehouse?
Currently in the United States, the average warehouse size is a little over 15,000 square feet. Small warehouses are thus considered to be under 15,000 sq. ft. and large warehouses are those over 100,000 sq. ft.
Small warehouses (those typically smaller than 15,000 square feet) are cost-effective storage facilities that are often used by e-commerce businesses. They enable business owners to store inventory in areas that don't require an excessive footprint.
Large warehouse operations (those greater than 100,000 square feet) are usually used by importers, exporters, manufacturers and wholesalers. These larger warehouses are usually located in industrial parks or on the outskirts of towns or ports to provide easy access to highways and loading docks.
Common Warehouse Purposes
Warehouses can be used for any variety of reasons. The typical warehouse size for various industries will differ based on the business operations it hosts. The following are common uses for warehouses, each requiring a unique space tailored to their purpose:
Distribution centers
Manufacturing
Factories
Wholesale
Healthcare
Retail
Food service
Automotive
Grow rooms
Trend Toward New vs Existing Warehouse Spaces
As mentioned before, the modern trend is a preference toward new warehouse builds vs refurbishment of old/existing ones. This is often because companies can choose the size of the warehouse, the placement of their buildings, build in proper power outlets, have the layout they want, and design access routes that make it easy for trucks and employees to come in and out with a new facility. Additionally, they can choose to utilize the standard warehouse dimensions that work best for their business' needs. From 2000 to 2012 alone, over 3 billion square feet of warehouse capacity was built into our national landscape.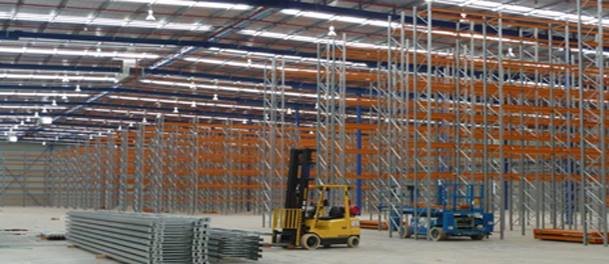 Warehouse Space Planning
What size warehouse is right for you depends on your unique business needs. The first step in determining the right size is accounting for your storage space requirements. Below, we break down how to calculate that, as well as provide tips on how to maximize it.
Calculating Warehouse Storage Capacity
In order to figure out what your ideal warehouse's storage capacity is, you need to do a few calculations. Here's a breakdown of the math:
Compute the complete square footage of your warehousing space (for easy math, we'll use 200,000 square feet in this example).
Subtract the total square footage of space that's not being used for storage (be sure to include things like offices, bathrooms, and loading areas). In our example, we'll say that it comes out to 50,000 square feet of space in which you can't store goods, leaving 150,000 square feet for storage.
Calculate your building's clear height (the distance from the floor to the steel shell of your facility). Your warehouse's clear height will impact the usable space in the area, as it determines how high you can store items.
Multiply your total square footage of usable space by the clear height to determine the total storage capacity in cubic feet. Let's say our clear height is 30 feet. That would mean 150,000 x 30 = 4.5 million cubic feet.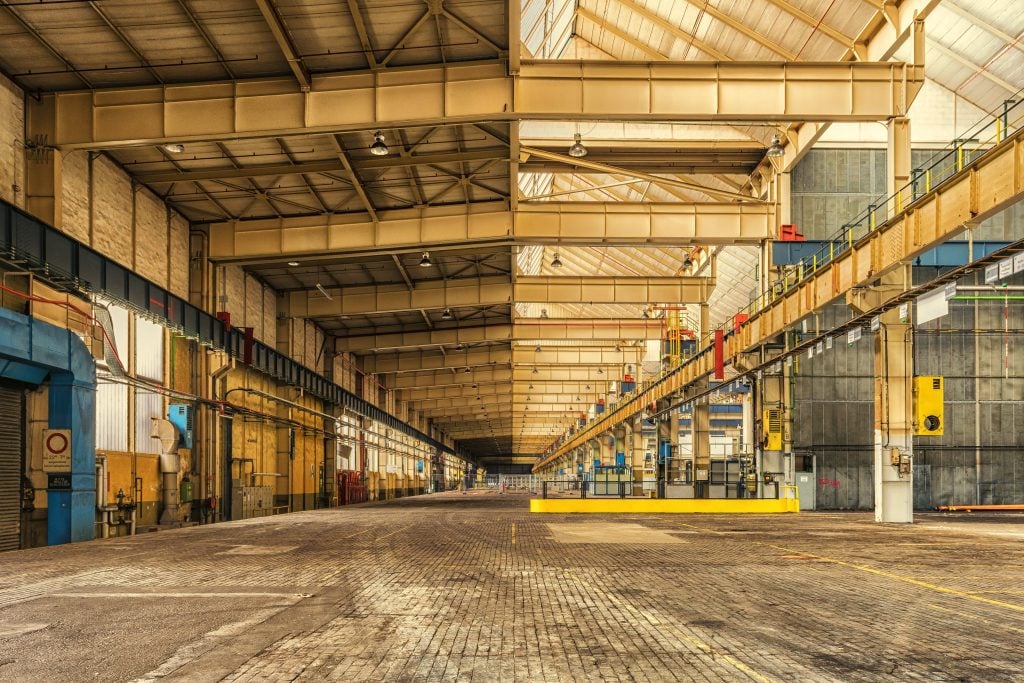 How to Maximize Warehouse Storage
Don't become complacent with your current warehouse setup! Here are a few simple tips to maximize its storage capacity.
Be sure to rearrange aisles, pallet racks, and shelving to ensure you're making the most of available space.
Increase your clear height when possible
Account for inventory fluctuations (such as seasonality and supply chain disruptions)
Allow room for growth in capacity and workload
Consider mezzanines and/or modular offices to utilize existing space
Avoid guesstimating your warehouse space; instead, follow the guidelines mentioned above
Finally, you always want to be sure you're using the right storage solutions for large or smaller warehouses. Warehouse1 offers an assortment of pallet racks and other storage options, including: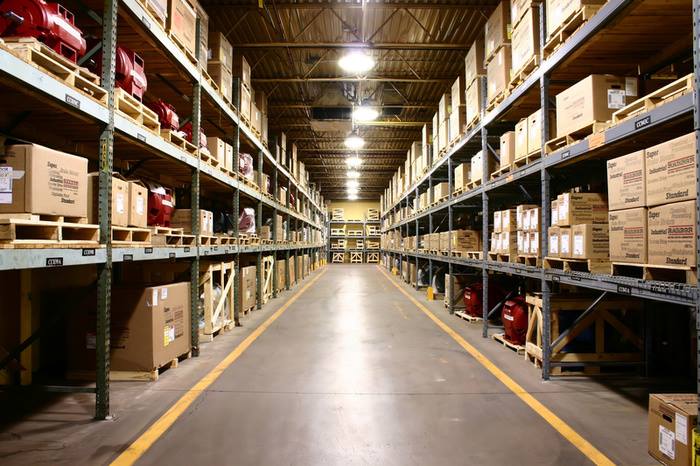 Commercial Building Trends
It's no surprise that the coronavirus changed operations all over the world, commercial warehouses included. In this industry, a lot of projects were paused or halted altogether. Construction may be slower to rebound than in other industries, which is why it's important to utilize the space you have currently available to you if you're working in a warehousing environment.
The upcoming years will be a future in which more technology is used to navigate challenges such as warehouse shortages, operations disruptions and occurrences of human error. Thus, warehouses need to be planned and built in ways that enable robots and drones to get around easily.
We're also likely to see more:
Voice technology and pick to light systems, which will help warehouse staffers select orders, assess inventory and handle shipments
Machine-to-machine technology, which will transfer information from computer to computer, helping warehouse management collect and manage data more efficiently and correctly
Machine learning, whereby warehouse management systems (WMSs) will gather business insights and deliver information such as how long processes will take in certain conditions
Automation, which will accurately retrieve products and packages to decrease labor costs and increase output.
Why You Need Warehouse1 for Your Warehousing Needs
It's imperative to have the right warehouse dimensions and space planned out for storage optimization and inventory management.
For more help designing your warehouse space, be sure to check out Warehouse1's layout and space checklists. And to learn more about how we can help your business be the best it can be, explore our layout design and warehouse relocation services.