Pallet Rack Power Rankings
What are the best types of pallet racking? We've reviewed and ranked the most popular styles and brands of pallet rack out there: Teardrop, Structural, Ridg-U-Rak Slotted, T-Bolt, Speedrack, Mecalux and Chinese Manufactured.
Our reviews give one to five stars for the following categories: design, availability, competitive pricing, ease of installation and durability. For a more in depth look, click on the titles of each selective pallet racking type to read our full review.
Teardrop Pallet Rack

| | |
| --- | --- |
| Design: | |
| Availability: | |
| Competitive Pricing: | |
| Ease of Installation: | |
| Durability: | |
Structural Pallet Rack

| | |
| --- | --- |
| Design: | |
| Availability: | |
| Competitive Pricing: | |
| Ease of Installation: | |
| Durability: | |
Ridg-U-Rak Slotted Pallet Rack

| | |
| --- | --- |
| Design: | |
| Availability: | |
| Competitive Pricing: | |
| Ease of Installation: | |
| Durability: | |
T-Bolt Pallet Rack

| | |
| --- | --- |
| Design: | |
| Availability: | |
| Competitive Pricing: | |
| Ease of Installation: | |
| Durability: | |
Speedrack Pallet Rack

| | |
| --- | --- |
| Design: | |
| Availability: | |
| Competitive Pricing: | |
| Ease of Installation: | |
| Durability: | |
Mecalux Pallet Rack
| | |
| --- | --- |
| Design: | |
| Availability: | |
| Competitive Pricing: | |
| Ease of Installation: | |
| Durability: | |
Chinese Manufactured Pallet Rack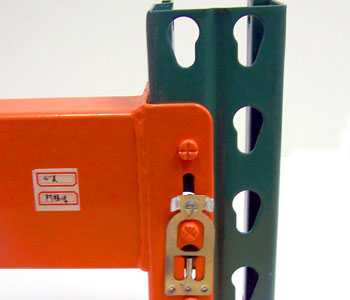 | | |
| --- | --- |
| Design: | |
| Availability: | |
| Competitive Pricing: | |
| Ease of Installation: | |
| Durability: | |