Should I Buy Teardrop Pallet Rack?
Our reviews compare top pallet rack styles and brands, giving up to five stars in each of the following criteria: design, availability, competitive pricing, ease of installation and durability. First up is the most popular style of selective pallet rack, Teardrop.
Availability:

With teardrop pallet rack being the most common style of rack in the market today, availability is usually very good in both new and used conditions. Because there are so many manufacturers of teardrop (Ridg-U-Rak, Interlake, Wireway Husky, Unarco, Bulldog, Unirak, etc.), finding a source for new teardrop from a variety of shipping locations is easy. Used teardrop pallet rack is also widely available as well, however, some of the more common sizes (42″ depth & 12' heights for example) sell out very quickly.
Competitive Pricing:
Sometimes this is tough…new pricing fluctuates depending on the manufacturer and the cost of steel. Some manufacturers are priced higher than others, because their racks have high quality features, while others skip some of the quality to keep costs down. In the used pallet rack market, it is usually harder to buy teardrop racks at a cheap price as the demand is so high.
Ease of Installation:

Teardrop is the type of pallet rack most installers prefer to assemble. As mentioned in the design section, this style of rack is very easy to install because no special hardware or tools are required. With a one-piece welded clip, all you have to do is put the beam into place and maybe tap down to seat into the teardrop connections.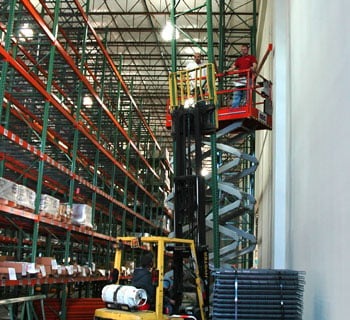 Install: teardrop rack is preferred by most installers because no special hardware or tools are required for installation.
Final Word
In 13 years of material handling experience, teardrop pallet rack is what I look to quote and prefer to sell. With teardrop being so strong across the board, specifically in design, durability and availability, it's easy to see why it's number one.

Teardrop: Top marks in design, availability, installation and durability make teardrop rack #1.