What Specialty Pallet Jacks Are Available for Special Applications?
What does one do if their load is heavier than what a standard pallet jack can accommodate? What if a standard truck cannot meet the height and clearance restrictions of their pallets? What if wet environments are rusting their units? What do they do when they're not sure what to do??
There was a time when custom and specialty pallet trucks didn't exist. Users would get creative: welding on attachments, screwing on rubber wheels, grinding off steel – all the while compromising the structure of the truck. These days it's rare to find a manufacturer that doesn'toffer jacks to suit specific applications. Below are some of the more common industry and application-specific variations of manual pallet trucks.
Corrosion Resistance – Not Cheap, but Worth the Investment
Galvanized and stainless steel trucks are a must in certain industries with harsh and corrosive environments. When selecting these trucks, it is important to find ones that are as completely comprised of galvanized or stainless components as possible. To reduce costs, some manufacturers skimp on materials, substituting treated components for non-treated steel. These shortcuts reduce the longevity of a corrosion resistant truck and should be avoided.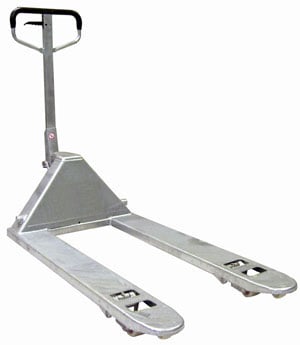 Galvanized Pallet Truck – Hot Dipped or Coated
A galvanized pallet truck is distinguished by its flat, non-glossy grey finish. The good ones will have a fully galvanized frame, pump, handle, push rod, crank, and components, and nylon wheels and rollers.
These trucks are ideal for wet environments such as freezers and refrigerators (grocery and agriculture), food storage depots and terminals, breweries, and any environment where moisture and condensation can accumulate. Easy to wash down and wipe clean, they are typically less expensive than their stainless steel counterparts, but they are not well-suited for conditions with corrosive or harsh chemicals and liquids.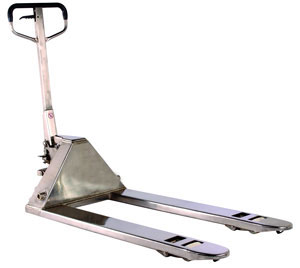 Stainless Steel Pallet Truck
Easily distinguished by their glossy mirror finish, a stainless steel pallet truck represents the ultimate in corrosion resistance. These trucks will have Grade 303 or 304 stainless steel frames, forks, axles, pumps, and handles. Nylon wheels and rollers are a must, as they're the only wheel type that can withstand corrosive conditions.
Stainless trucks are ideal in conditions with harsh and corrosive chemicals (pharmaceutical); salt-water environments (fisheries and marine); and heavy oils and acids (food processing plants). At two to three times the cost of a galvanized truck, stainless steel units can get pricey.
Low Profile – When Clearance Is an Issue
Low-profile trucks are designed to handle pallets and skids that sit too low for conventional trucks. Although they're rare, there are pallets and skids that have openings lower than 3″ that a standard pallet truck with a lowered height of 2.9″ will not fit. That's where a low-profile truck comes into play.

Low-Profile 1.5″ low Standard 2.9″ low
A low-profile pallet truck will range in lowered height from 2″ down to 1-3/8″. They're the best (and only) option for getting into or under low clearance shelving, bins, racks, or skids.
Since they are much lower, they typically have less steel reinforcement in the forks and smaller load rollers, resulting in a reduced lifting capacity between 2000 and 4500 lbs. Low-profile trucks are a good option for grocery chains, since many produce and food importers utilize lower height skids and bales to transport their goods.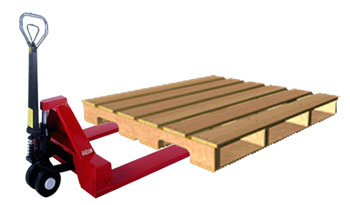 4-Way Pallet Entry in a 3-string pallet
Another useful invention: the 4-Way pallet truck. These units are the lesser-known gems of the industry, designed with wider dimensions and a lower stance to accommodate both 2-way and 4-way pallet entry! These are most useful when space and maneuverability are a consideration (in the back of a trailer, narrow aisles, close quarters), or for wider and "3-string" pallets.
Heavy Duty – How Much is Too Much?
Customers will often ask for pallet jacks of the heavier duty variety – ones that can lift more than the standard 5500 lbs. For this reason, high-capacity trucks are available to accommodate loads as large as 7000, 10,000, and even 15,000 lbs.
These trucks will typically feature reinforced bulkheads, reinforced forks and C-channel steel, solid steel wheels and rollers, and beefier hydraulic units. Naturally, the higher the capacity of the truck, the heavier it becomes. They are heavy, slow and unwieldy, and maneuvering a truck loaded with 10,000 lbs is virtually impossible to do solo.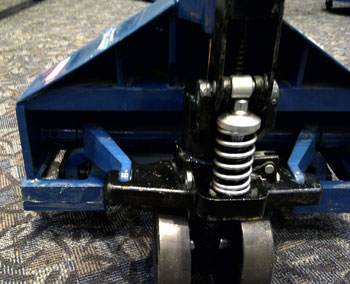 12,000 lb capacity pallet truck
The majority of customers using a heavy-duty pallet truck never load them to their maximum rated capacity! That being said, they can be a handy problem solver for those heavier lifting applications – so long as you have a buddy or three to help you move it.
All Terrain – for Hard to Reach Applications
All terrain pallet trucks are useful in conditions where pallets and skids need to be transported, but standard pallet trucks cannot be used: rough or uneven floors, jobsites, greenhouses, and unpaved surfaces.
They are very handy in the construction industry, hardware stores and garden centers. The large pneumatic tires and adjustable-width forks will allow for access in places where standard pallet trucks cannot manage.
| | |
| --- | --- |
| | Adjustable forks, large pneumatic tires, straddle legs for added support and stability, and high-strength steel reinforcement – the all terrain pallet truck goes where no standard truck can. |
Adjustable forks, large pneumatic tires, straddle legs for added support and stability, and high-strength steel reinforcement – the all terrain pallet truck goes where no standard truck can.
A World of Infinite (Pallet Truck) Possibility
While these are just a few options available today, as the design of the pallet truck advances, so too does the number of possibilities. There are other options out there and chances are that if someone has come across some unique application, some enterprising manufacturer has standardized it. With modern engineering capabilities, there's not much that cannot be done.
Our next post will be the 5th and final in the series: an overview of the manual pallet truck industry. As the import market flourishes, purchase prices are at an all time low, yet cost of ownership is as high as it's ever been. We'll explore this phenomenon and how it has come about.
Steve Guagliano Jr. followed his father into the material handling industry and has over 10 years of direct field sales experience, technical services and project management expertise. Steve is an expert in manual pallet trucks, high-lift stackers, and electric walkie and rider units.