True or False: "A Pallet Jack Is a Pallet Jack"?
Pallet Truck Durability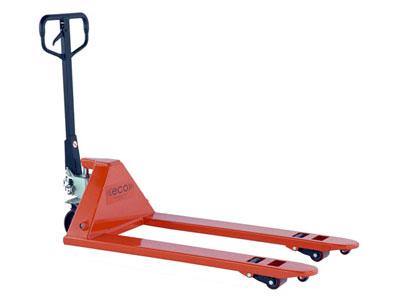 To the untrained eye, a pallet truck is a pallet truck. They all have two forks, a handle, a pump, lots of colourful steel, and wheels both big and small. What more do you need to know? This is easy, right?
Well, no – not quite. The truth is that not all pallet trucks are created equal. As similar as they look to one another, when one looks deeper into both form and function, the differences become readily apparent. These differences will determine why pricing on pallet trucks can vary so much from one brand to the next, despite a similar appearance.
More importantly though, knowledge of these features will help buyers determine why to buy one particular truck over another. After all, knowledge is power! As a machine designed to lift and transport loads in excess of 5,500lbs, the construction of a pallet truck is crucial to both its performance and its longevity. The more that goes into a truck, the longer it will last and the stronger it will be.
There is, of course, a lesson in this: don't be fooled by a lower price point! Imitation brands and cheaper imports are cheaper for a reason; oftentimes, production materials will be sacrificed in favour of cost-advantage. To the average user, this can be a costly oversight. Below are listed some of the key components of a manual pallet truck, features to look for, and a brief description of how some of these features vary between different models.
Pallet Jack Pump – the Heart of Any Truck
There are few components on a pallet jack that are as crucial as the pump. The pump bears the important task of controlling the hydraulic lift and lowering function of any jack.
A quality pump will have a large oil reservoir, which typically means fewer pumps of the handle to reach full lift height, as well as more pumps overall through the life of the truck. Smaller pumps typically require more oil more often, and often feature plastic seals, bearings, and wipers of lesser quality.
| | |
| --- | --- |
| | |
| Large, high-capacity pump with chrome plated piston and ram; re-buildable and re-sealable = long life and good performance | Smaller pump with smaller reservoir; lower quality ram and washers; enclosed unit, so it cannot be rebuilt and seals cannot be replaced when worn or leaking |
Pallet Jack Handle – a "Pivotal" Feature of Any Jack
A lot can be said about different handle styles and configurations; some are padded for comfort, some are universal for lefties and righties, some are plastic so as not to conduct cold (but never as durable as steel). Ultimately, it's a matter of preference and may have no bearing on the operation of the hand pallet jack itself.
What is important though is the handle base. A good handle base will feature thick steel reinforcement all the way up to the grip, or additional steel welded above the base where the handle attaches to the pump. The handle base of a pallet truck endures tremendous twisting, pulling, and pivoting stress throughout its lifetime. As such, the more steel that is built into it, the longer it will last.
Structural Reinforcement – Where to Look for It and What It's For
Any pallet truck worth its weight (literally) will feature a hefty amount of steel reinforcement. Generally speaking, the more steel you find in a truck, the more durable it will be and the longer it will last. How does one tell though how much steel is actually in a pallet jack? Simply flip it over and look underneath! There are a few specific areas to look at:
Crossbar and Frame: steel support "gussets" and "C-Channel" can bolster the entire frame of the truck when carrying heavy loads and provide additional resistance against bending and twisting stress
| | |
| --- | --- |
| | C-Channel Steel ReinforcementSteel Support Gussets |
Fork Reinforcement: additional steel added to the inside of the fork will reinforce the forks themselves, adding rigidity to the overall frame of the truck and minimizing bending and twisting stress while under heavier loads. The more steel that is added to the forks, the stronger they become and the more resistant they are to bending and stress fractures.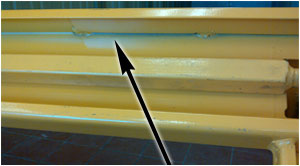 Minimal steel reinforcement in the forks
| | |
| --- | --- |
| Heavy Steel reinforcement running the length of the fork | |
Bulkhead and Bulkhead Base Reinforcement: Another crucial component, the bulkhead of a pallet jack (the triangular shaped apron) is essentially the bridge that connects the forks and the hydraulic pump. Because of this, the bulkhead has to have the capacity to consistently lift and maintain loads in excess of 5000lbs, which in turn, maintains the strength of the forks and truck frame itself.
Without sufficient steel reinforcement, the bulkhead weakens over time, load capacity drops, and the truck can become potentially un-useable. Minimize that risk by finding a jack with ample steel reinforcement in the bulkhead and bulkhead base.
| | |
| --- | --- |
| | Heavy steel reinforcement running the length of the fork |
| | | |
| --- | --- | --- |
| | | |
| Reinforced Bulkhead Header and Base | Reinforced Bulkhead Header | Minimal Bulkhead Reinforcement |
Steve Guagliano Jr. followed his father into the material handling industry and has over 10 years of direct field sales experience, technical services and project management expertise. Steve is an expert in manual pallet trucks, high-lift stackers, and electric walkie and rider units.